12 Can't-Miss Panels At This Weekend's Festival Of Books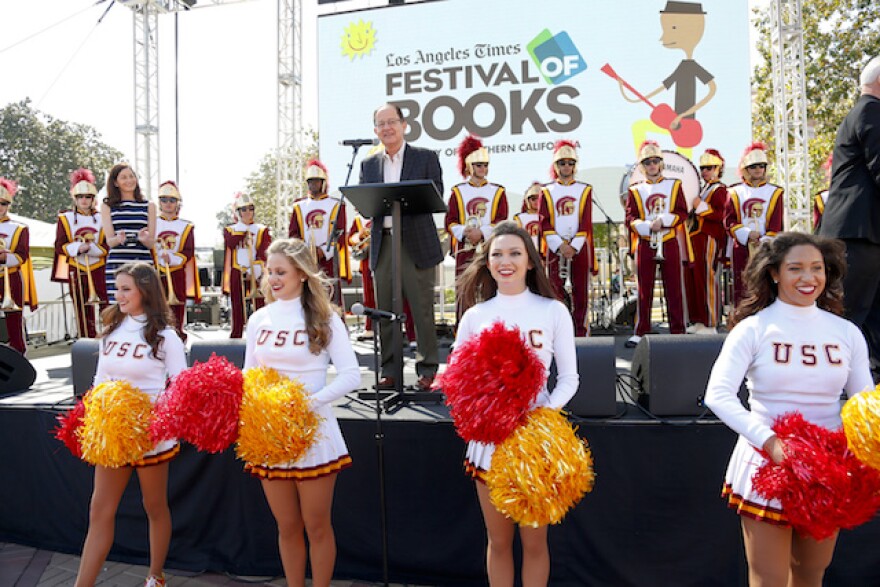 Stories like these are only possible with your help!
Your donation today keeps LAist independent, ready to meet the needs of our city, and paywall free. Thank you for your partnership, we can't do this without you.

April may be the cruellest month for lovers of literature, but joy is near—at least for a weekend: America's largest literary festival is upon us. The Los Angeles Times Festival of Books—which, for those who have never been, is basically just like Coachella, except not awful and about books—is taking over the USC campus Saturday and Sunday. Bookfest highlights include readings from big-name authors, booth heaven (hundreds of booksellers, publishers and literary organizations will be out repping), a veritable smorgasbord of panels, and the chance to fangirl over your favorite writers in person. The poets laureate of Los Angeles, California, and the U.S. will ALL be in attendance. How's that for a trifecta? And they used to say our only cultural advantage was turning right on a red light.
The festival will run from 10 a.m. to 6 p.m. Saturday and 10 a.m. to 5 p.m. Sunday. Admission to the festival is free, but all of the events listed below (aside from "Covering San Bernardino") require a ticket. Tickets can be obtained online for a $1 service fee (a limited number of tickets will also be available in person at the festival ticketing booth on the day of the Conversation—free of service charges). Parking will be available for $12 in various USC lots, but we highly recommend taking Metro (the Expo Line takes you right there). Not all vendors take credit cards, so we advise bringing cash.
Blissful meandering through the bookish melee could easily eat one's whole afternoon, but it would be a mistake to make it to the festival and not experience at least one or two of the panels. Skipping the panels at Bookfest is like going to Coachella and dancing in a flower crown but not actually seeing any bands—you'll surely have fun, but you're only getting part of the experience. If you've taken a gander at the Festival of Book's website, you've likely already been overwhelmed by the sheer number of listings. Fear not, we've done the heavy lifting for you. Below are a dozen of our favorite literary panels from this weekend's line-up. You can find the full schedule here.
Saturday, April 9
Pretty Deadly: The Dark Side of California (Conversation 1041)
Come for the sunshine and stay for the noir. The wonderful Richard Rayner—a native Brit who's been writing about L.A. for the better part of the last three decades, most recently with 2009's A Bright And Guilty Place—will lead journalist Frances Dinkelspiel, nonfiction writer Deanne Stillman, and documentary filmmaker and author Jon Wilkman into the darkest corners of the Golden State. Ticket required ($1 service charge for purchasing online). Andrus Gerontology Center. 10:30 a.m.
Pre-reading:
• A Bright and Guilty Place excerpt (The first chapter from Rayner's Chandleresque nonfiction narrative of L.A. in the late 1920s and early 1930s)
• "Some Dreamers of the Golden Dream" (Joan Didion's classic 1966 account of murder and adultery in San Bernardino County)
San Bernardino: Covering the Story
What was it like to be a journalist on the ground in San Bernardino after December's shooting? Megan Garvey, the deputy managing editor for digital at the L.A. Times, will moderate, joined by Sarah Parvini from L.A. Times' Metro desk, Paloma Esquivel, who covers the Inland Empire, criminal courts reporter Jack Leonard and projects reporter Joe Mozingo (Mozingo was a Pulitzer Prize-finalist for his investigation into the crash of the space shuttle Columbia). L.A. Times Central Stage. 4:30 p.m. (This talk does not require a ticket).
Pre-reading:
• "Amid Farook family violence, brothers were a study in contrasts" (L.A. Times article by Sarah Parvini, Matt Hamilton and Corina Knoll from 12/24/15)
• "Clashing portrayals of Enrique Marquez, friend of San Bernardino shooter"; (L.A. Times article by Sarah Parvini, Brittny Mejia and Marisa Gerber from 12/24/15)
State of Emergency: Homelessness in L.A. (Conversation 1143)
In September, Los Angeles became the first city in the United States to declare a state of emergency over homelessness, and pledged to spend $100 million this year on housing and services. Why are so many people sleeping on the streets, and what can we as a city do about it? USC School of Social Work professor Suzanne Wenzel will moderate a talk on L.A.'s current homelessness crisis with LA City Councilman Marqueece Harris-Dawson, Chris Cormier, head chef of the Los Angeles Mission and fellow USC professor Ben Henwood. Ticket required ($1 service charge for purchasing online). Wallis Annenberg Hall. 1:30 p.m.
Pre-reading:
• "4 myths that make L.A. County's homeless problem worse" (An L.A. Times op-ed from the executive director of Inner City Law Center)
Fiction: Lives Unraveling (Conversation 1025)
Chris Daley, who runs Writing Workshops Los Angeles, will lead a powerhouse table of female writers (Mona Simpson, Vendela Vida, Karolina Waclawiak), in conversation around the fiction of difficult lives. Mona Simpson's first novel Anywhere But Here is an L.A. classic. You probably know Karolina Waclawiak's name from her former role as deputy editor of the Believer, or her current role at Buzzfeed, but you should read her fiction, and stat. Vendela Vida is a founding editor of The Believer, and the critically acclaimed author of five books, including Let the Northern Lights Erase Your Name and The Lovers. Ticket required ($1 service charge for purchasing online). Hoffman Hall. 4:30 p.m.
Pre-reading:
• Excerpt from Mona Simpson's Anywhere But Here
The Art of the Essay (Conversation 1054)
Dinah Lenney, who serves as the senior nonfiction editor at the Los Angeles Review of Books, will tackle the unknowable depths of the essay as form, alongside the great David Ulin (former book critic at the L.A. Times, editor of Writing Los Angeles: a Literary Anthology, author of Sidewalking), Emily Rapp Black (start with her searing memoir The Still Point of the Turning World), Meghan Daum (former Guggenheim fellow and author of My Misspent Youth), and Geoff Dyer (critic, essayist, and general literary BFD). Ticket required ($1 service charge for purchasing online). Salvador Computer Center 101. 2:30 p.m.
Pre-reading:
• "The Art of Nonfiction No. 6"(Interview with Geoff Dyer from the Paris Review)
• "Fifteen Takes on California" (Essay by David Ulin from the Summer 2015 issue of the Virginia Quarterly Review)
Juan Felipe Herrera in conversation with Sesshu Foster (Conversation 1092)
U.S. Poet Laureate Juan Felipe Herrera will be interviewed by East L.A. poet and novelist Sesshu Foster. Ticket required ($1 service charge for purchasing online). Seeley G. Mudd (SGM 123). 11:30 a.m.
Pre-reading:
• "A Los Angeles poet's revolution of everyday life" (An Al-Jazeera America profile of Foster)
• "Juan Felipe Herrera: Poet Laureate of Aztlan and America" (Mike Sonksen writes about Herrera for KCET)
Political History: Shaping Democratic Process (Conversation 1125)
Now a senior editor at Politico, Todd S. Purdum spent 23 years at the New York Times, where he covered politics from city hall to the White House, along with a stint as the Times' L.A. bureau chief. He'll be joined in conversation by Ari Berman, a political correspondent for The Nation, historian and journalist Nancy L. Cohen, lawyer and former dean of the USC Annenberg School Geoffrey Cowan (Cowan was also Seymour Hersh's source for the infamous My Lai story, which is neither here nor there, but certainly of interest), and finally, storied journalist Robert Scheer. Scheer is a cohost of KCRW's "Left, Right and Center" and editor-in-chief of Truthdig. Ticket required ($1 service charge for purchasing online). Taper Hall, 101. 4:30 p.m.
Pre-reading:
• "It Came From Wasilla" (Todd S. Purdum's 2009 Vanity Fair story about Sarah Palin)
• "Jimmy Carter: The Playboy Interview" (Robert Scheer's notorious 1976 interview with then-presidential candidate Jimmy Carter)
Sunday, April 10
History: Laws of Nature, Laws of Man (Conversation 2011)
Bill Boyarsky, who spent 30 years at the L.A. Times and wrote Inventing L.A.: The Chandlers and Their Times, will talk historical writing with Cambridge classicist and SPQR author Mary Beard, historian Mark Molesky, and China-based author and journalist Michael Schuman. Ticket required ($1 service charge for purchasing online). Hancock Foundation. 10:30 a.m.
Pre-reading:
• "The Troll Slayer" (A 2014 New Yorker profile of Mary Beard)
Food Futures, presented by California Humanities (Conversation 2033)
David "Mas" Masumoto of Masumoto Peach Farms, food researcher Sarah Smith, the legendary Alice Walters, and the equally-legendary Jonathan Gold will discuss the future of food. Ticket required ($1 service charge for purchasing online). Town and Gown. 1:30 p.m.
Pre-reading:
• "The Future of Food According to Alice Waters" (A preview of the panel from Vice, with an interview with Waters)
Michael Connelly in conversation with Titus Welliver (Conversation 2062)
Best-selling crime novelist and former L.A. Times reporter Michael Connelly, whose books serve as the basis for the Amazon series Bosch, will be joined by Titus Welliver, who plays title character Harry Bosch on the Amazon series. Ticket required ($1 service charge for purchasing online). Bovard Auditorium. 1 p.m.
Pre-reading:
• "Why it took Michael Connelly 20 years to bring Harry Bosch to TV" (Michael Connelly talks to KPCC's The Frame)
Crime, Justice & Redemption in America Today (Conversation 2071)
The O.C. Register's Margot Roosevelt will moderate a conversation on criminal justice in America with investigative journalist Joe Domanick, WitnessLA founder and editor Celeste Fremon, former L.A. Times journalist and author of last year's much-buzzed-about Dreamland: The True Tale of America's Opiate Epidemic Sam Quinones, and writer and activist Shaka Senghor. Ticket required ($1 service charge for purchasing online). Ronald Tutor Campus Center. 10:30 a.m.
Pre-reading:
• "Downfall" (Celeste Fremon's masterful 2014 Los Angeles Magazine portrait of Lee Baca's fall)
• "What It's Like To Spend 4.5 Years in Solitary Confinement" (Senghor talks to Fusion about his personal odyssey and the realities of solitary confinement)
Woody, Wilshire, and South L.A.: Selected Histories (Conversation 2144)
Explore selected L.A. histories with authors and archivists who are exploring unique aspects of the city's cultural, geographic, and political heritage. Josh Kun (To Live and Dine in L.A., Songs in the Key of L.A.) moderates a discussion with historian William Deverell, L.A. history all-star Nathan Masters, and Yusef Omowale, director of the Southern California Library. Ticket required ($1 service charge for purchasing online). Annenberg Hall. 3 p.m.
Pre-reading:
"Main Sqeeze: How the Orange Revolutionized California" (Nathan Masters tackles L.A.'s citrus history for Los Angeles Magazine, circa December 2014)