This is an archival story that predates current editorial management.
This archival content was written, edited, and published prior to LAist's acquisition by its current owner, Southern California Public Radio ("SCPR"). Content, such as language choice and subject matter, in archival articles therefore may not align with SCPR's current editorial standards. To learn more about those standards and why we make this distinction, please click here.
'Heady stuff': Flaming Lips Frontman Talks About 24-Hour-Long Track Sold in a Human Skull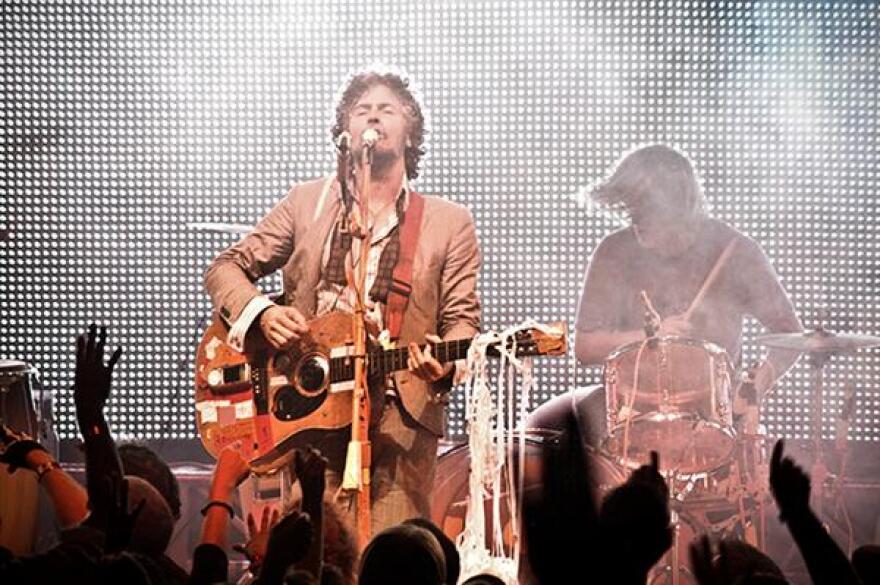 We need to hear from you.
Today, put a dollar value on the trustworthy reporting you rely on all year long. The local news you read here every day is crafted for you, but right now, we need your help to keep it going. In these uncertain times, your support is even more important. We can't hold those in power accountable and uplift voices from the community without your partnership. Thank you.
In a small interview piece posted today by the L.A. Times' Pop & Hiss blog, Flaming Lips frontman Wayne Coyne talks about the band's forthcoming 24-hour-long track, particularly the song's unique playing format and packaging.
Has being in a cult-status indie rock band gone to Coyne's head? Hmmm. As Pop & Hiss says, this is "heady stuff." Why the head puns? Well, the upcoming 24-hour track will be "stored on a memory stick that will be placed inside a human skull."
Yeah, you read that right. More from the story:
"It's a giant, actual human skull," Coyne said with great pleasure, no doubt to distinguish the other recent project from the skull-shaped gummy candy into which the band recently packed a USB drive with four new songs. "Not everyone can have them, but the guy I'm buying them from is allowed to sell them. "This guy has had his shop since 1983; he's in Oklahoma City," he said. "So I thought it was just a normal thing, 'Hey, we'll buy a human skull.' He has a big place where he gets skulls from all over the world. And not just human skulls: He also has elephant skulls and hippo skulls. You can get almost anything."


Good to know. So when can you get your human skull stuffed with a full day's worth of Lips music? Yeah, we don't know either. Soon. Relax. In the meantime, you can drop $124.98
on "Heady Nugs,"
the limited-edition vinyl set of the band's recordings from 1992-2002, consisting of the first five Warner Bros. records.
Skulls seem to be a thing with Coyne and the band. In April they put out new tracks embedded in edible gummy skulls.
Previously
LAist Interview: Wayne Coyne of the Flaming Lips
The Flaming Lips For Breakfast
But Yeoh is the first to publicly identify as Asian. We take a look at Oberon's complicated path in Hollywood.

His latest solo exhibition is titled "Flutterluster," showing at Los Angeles gallery Matter Studio. It features large works that incorporate what Huss describes as a "fluttering line" that he's been playing with ever since he was a child — going on 50 years.

It's set to open by mid-to-late February.

The new Orange County Museum of Art opens its doors to the public on Oct. 8.

Cosplayers will be holding court once again and taking photos with onlookers at the con.

Littlefeather recalls an "incensed" John Wayne having to be restrained from assaulting her and being threatened with arrest if she read the long speech Brando sent with her.