Have an iPad and Some Free Time? Be Part of a Crowd-Sourced Piece of "Weird Art"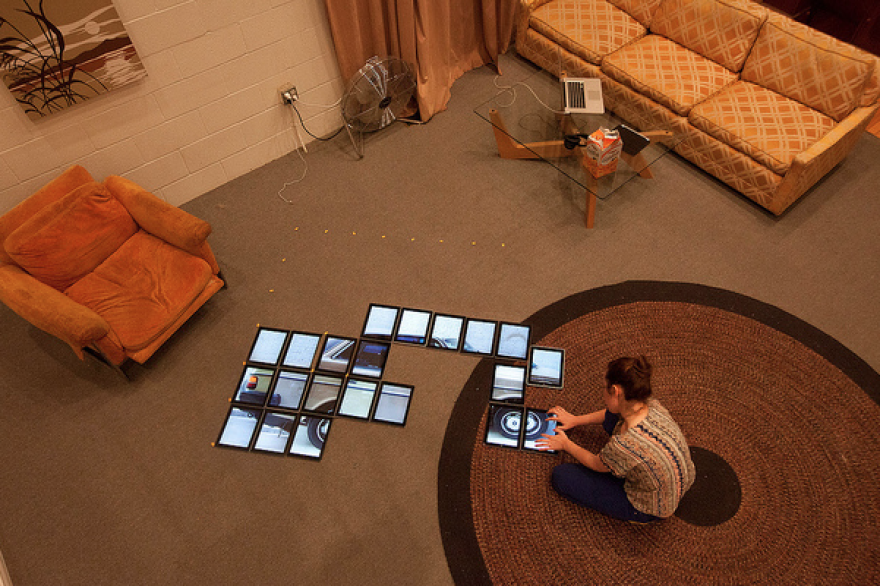 Stories like these are only possible with your help!
You have the power to keep local news strong for the coming months. Your financial support today keeps our reporters ready to meet the needs of our city. Thank you for investing in your community.
Calling all nerds with iPads: There's an art-meets-geek flash mob-style gathering this weekend aimed at creating a giant collage of screens (a la Jumbotron), and you're invited.
They're calling a Jumboltron, and organizers are hoping to gather "many, many of you for a few hours to assemble things like cars, living rooms, words, and other craziness out of iPads" or, in simpler terms, "cool shit."

Photo by boltron via Instagram
Basically, if you RSVP and fill out your model release, you will be heading to The Forge at 3 p.m. Saturday, April 28, and your iPad will be assigned an image to contribute. The organizers (artists nicknamed Boltron, Schude, Lemon, and Gabs) promise they'll label your iPad with a sticker, and ask that you hold your iPad up in some shots (if you drop it, it's on you) and may need to lay it down without its cover for some shots. Who should sign up? People with iPads who are over 21, who fill out the RSVP and model release...of course, but Jumboltron's creators also suggest these kinds of folks should join in:
People with iPads who love photography
iPad owners with an appreciation of photography
Photographers with iPads
Nerds with iPads
Nerds with nerds on nerds who have iPads
Musicians with iPads who like nerds with iPads
Accountants with iPads
Lawyers with iPads
Luddites with iPads
Luddite Anarchists with iPads
Me and you, your momma and your cousin, too, as long as they have an iPad (from Outkast )
Bonus: At the party/photo shoot/flashmob, you will be entertained by the RVIP mobile karaoke lounge.
Link to RSVP and more info is at the Jumboltron site.
(h/t Laughing Squid)