This is an archival story that predates current editorial management.
This archival content was written, edited, and published prior to LAist's acquisition by its current owner, Southern California Public Radio ("SCPR"). Content, such as language choice and subject matter, in archival articles therefore may not align with SCPR's current editorial standards. To learn more about those standards and why we make this distinction, please click here.
Ten Things You May Not Know About Echo Park
Before you read more...
Dear reader, we're asking you to help us keep local news available for all. Your tax-deductible financial support keeps our stories free to read, instead of hidden behind paywalls. We believe when reliable local reporting is widely available, the entire community benefits. Thank you for investing in your neighborhood.
Echo Park represents the epicenter of L.A.'s gentrification battle. Rent teeters on unaffordable and people with indeterminate day jobs constantly roost at the many coffee shops. Despite the whitewashing and sandalwood-scented boutiques, though, Echo Park still holds an image as a counter-culture stronghold of L.A. Somehow its history of artists, bohemians, and immigrant culture hasn't undergone total erasure despite every Instagram of the lake and smoothie from Lassen's. The roots of L.A.'s major economic and cultural movements still lie in the small, hilly, idyllic neighborhood.

Keystone Studios in Edendale. (Photo courtesy of the Los Angeles Public Library Photo Collection)
IT WAS THE HOME OF HOLLYWOOD'S EARLY COMEDY BOOM
Before Echo Park was in the Hipster Triangle, it was in Edendale. The small historic district north of Los Angeles encompassed what we know now as Los Feliz, Silver Lake, and Echo Park, and it was the epicenter of the early silent film industry. William Selig built the first permanent movie studio in Los Angeles at Clifford St. and Glendale Blvd and based its architecture off the San Gabriel Mission. Early iterations of Universal Studios, Pathe, and Fox Studios also worked out of Echo Park. Each of these studios left a lasting legacy on the entertainment industry, but none could compare to Mack Sennett in terms of genre influence. The filmmaker arrived in Edendale in 1912 and immediately ushered in slapstick comedy from this pre-Hollywood neighborhood.
Sennett founded Keystone Studios in Echo Park and built his reputation making 12-15 minute comedy reels. Sennett's brand of comedy marked itself as a take-down of economic hierarchies and Victorian-era social ideals. His version of slapstick was the first cinematic rendition of farce; he made sure to remind the audience of that fact by adding the subtitle "farce comedy" to each of his films. Thanks to these films and Sennett's ability to produce comedy, Charlie Chaplin jumped from vaudeville to an unprecedented level of American fame.
Sennett often used the neighborhood as an integral element to his comedy. The area made frequent appearances on screen, particularly in the Keystone Cops, a comedy series about a group of bumbling and incompetent policemen. At the end of a chase, or after a boat mishap, the cops would often end up in the lake itself. The hilly area also was Sennett's location of choice for morning workouts (maybe his obsession with health had a bigger legacy impact than any of his comedy). The studio where Sennett directed and produced has since been mostly torn down, but a small commemorative plaque now stands at 1712 Glendale Blvd, in honor of L.A.'s first cinematic boom.

Echo Park Lake with the Downtown Skyline Beyond (Heather Parlato/LAist)
ECHO PARK GOT ITS NAME FROM A CURIOUS SIDE EFFECT OF BUILDING A MAN-MADE LAKE
How did Echo Park even get its name? The picturesque lake was at one point Reservoir Number 4, meant to provide drinking water for the area. The reservoir lost its purpose (and economic viability) after the construction of the Silver Lake Reservoir, so it was drained and handed over to the city. Joseph Henry Tomlinson, a local architect, spearheaded the construction of the new lake and park. During construction, Tomlinson heard workers speaking behind him. When he turned to face them, though, he realized they were actually on the other side of the basin. The lake had a natural echo, and Echo Park was born.
Despite the name, though, the echoes were merely a fleeting aspect of the larger endeavor. Turning the reservoir into a public lake and park took eight years. Tomlinson took care to make that long construction time worth it, though. Despite being an English landscape designer, he gave Echo Park an entirely Californian design. Early photos display a lush park with willows, palms, and bridges flanking the man-made lake. However, by 2006, the turn-of-the-century idyll had become an "impaired body of water" and underwent a two-year renovation to become the late-night cycling pit stop we all know and love. The park no longer has the echo effect as a result of development and landscaping, but we can still pretend to overhear the conversations of other paddle-boaters.

Left, Edward L. Doheny (Photo courtesy of the Los Angeles Public Library Photo Collection); Detail of 1902 Street Guide Map of Los Angeles City (Image courtesy of the Los Angeles Public Library Map Collection).
THE LAKE ONCE CAUGHT ON FIRE FOR THREE DAYS
While L.A. has its cultural relevance from the film industry, its economic power and infrastructural development all come from one particular commodity: oil. The turn of the century was when oil drilling started to become a major part of LA's identity. In 1892, Edward Doheny and his fellow prospector Charles A. Canfield discovered LA's first oil field at Glendale, Colton, and Patton streets, around the corner from where the Bob Baker Marionette Theater now stands. The oil field extended through all of Echo Park, so exploratory prospectors were constantly drilling in search of new opportunities to strike it rich. As a result, excessive amounts of petroleum leaked into the man-made lake (it was originally built in 1870 to be a drinking water reservoir) and in 1907 the lake caught fire and burned for three days — or so legend has it.
This was well before Doheny took part in the Teapot Dome scandal — which served as the basis of Upton Sinclair's Oil and Paul Thomas Anderson's magnum opus There Will Be Blood — so Doheny was fairly unknown at the time. Political corruption had yet to ensnare his image. He and Canfield were merely young prospectors looking to make their lives and fortunes in the expansive West. What did it matter that their unregulated prospecting led to rampant speculative drilling and man-made environmental hazards? Oh, right, because it's the same tactics and mythology of righteous unmitigated greed that have led us to today.

ONE OF LA'S EARLIEST UTOPIAS SETTLED HERE
In true L.A. fashion, Echo Park started as a capitalist epicenter and grew into a haven for new societies. The neighborhood's most prominent commune of the 20th century were the The Semi-Tropic Spiritualists. The Spiritualists were L.A. citizens who grew disillusioned with the capitalist and unsustainable life of the modern city (can only imagine how they'd react to contemporary society). As a result, they set up camp on three acres just north of L.A.'s old city boundaries. The Tract, as it was called, housed the community and had enough land to support communal farming. Even though Echo Park is one neighborhood north of Downtown, at the time it must have felt like eons away from the bustle of early Los Angeles. The Spiritualists were also hoping to stay rooted for a long time: their incorporation documents listed their mission as "to acquire, operate and maintain permanent camp grounds in the County of Los Angeles."
Because of the Tract's association with spirituality and the occult in Los Angeles, it holds important historical meaning for the city. Therefore, as per usual, zoning battles erupted over the site. The Tract still existed as an urban ecosystem until the mid-2000s, when developers began eying the area for small-lot subdivisions. Preservationists fought tooth and nail, but by 2012 the homes were set for construction despite the neighborhood's best efforts. This preservationist-against-developer battle never rests in Los Angeles, with the current iteration manifesting most recently in Measure S.
The Spiritualists didn't just leave their mark in the world of L.A. housing policy; they're also the inspiration for a group of artists exploring the history in site-specific works. The artists Astri Swendsrud and Quinn Gomez-Heitzeberg have been creating art around the Spiritualists' history in 2013 and hope to take the symbolism and spirituality into a new contemporary context.

The Hollywood Ten demonstrating in 1947. (Photo courtesy of the Los Angeles Public Library Photo Collection)
BLACKLISTED SCREENWRITERS BUILT A COMMUNITY HERE
This communal history extended into the mid-20th century, when communists, bohemians, and other progressives moved to Echo Park during the Blacklist and Red Scare. The Blacklist was most literally the "Hollywood Ten" — a list of 10 screenwriters who refused to testify in front of the House Un-American Activities Committee — but is also the catch-all term for anti-communist hiring practices in Hollywood during the Cold War. By the 1950s, the entertainment industry had moved out of Edendale and into the major Hollywood studios, so Echo Park had become a distant neighborhood from the center of entertainment industry politics.
The prevalence of communists led to the nickname "The Red Gulch" or "The Red Hill." Besides the left-leaning artists, the Gulch also housed more typical activists. Among them was journalist Anna Louise Strong, who gained prominence by writing sympathetic portraits of Communist China and Soviet Russia. Despite her active and far-reaching career, though, the biggest impression she made on her neighbors was her decision not to wear any underwear. Clearly she wasn't enamored of the neighborhood either, considering she eventually left to live in the U.S.S.R. and then Communist China until her death.
The kids of these Communists were called "Red Diaper Babies," and we can wonder how they feel about Blue Bottle on Sunset and the imminent Mohawk Collective at Sunset and Alvarado.

Angelus Temple in 1967. (Photo courtesy of the Los Angeles Public Library Photo Collection)
TELEVANGELISM'S EARLY DAYS HAPPENED IN A LOCAL CHURCH
Have you ever walked to the Echoplex down Park and wondered what resides in that monolithic white structure across from the lake? Its curved edges retreat from view while walking past, but taking a step back, brings the full UFO church into view. It's the Angelus Temple, and its roots extend back to the beginning of televangelism.
The Temple started in 1923 under the tutelage of Aimee Semple McPherson. She's Canadian by birth (are there any iconic L.A. weirdos who are actually from L.A. itself?) who found her calling to preach (act), toured around the U.S. building her career (brand), and then moved to L.A. to seek out better opportunities. In 1922, right before moving to L.A., she became the first woman to preach a sermon over the radio. This early embrace of media allowed her to harness her growing audience once she arrived in Los Angeles. Here, she preached seven days a week about her Foursquare Church and brought her message to the masses by building floats for the Rose Parade. Her sermons also borrowed from the nearby entertainment industry, featuring sets, actors, and dramas around the stories of the Bible. Despite placing Jesus at the center of all her evangelism, McPherson herself became the largest draw of her Foursquare Church. Her radio show disseminated the message to those who couldn't attend services at Angelus Temple, and she became a huge media star.
Her religion did nothing to stamp out the calls to fame and scandal, however, and in 1926 McPherson mysteriously disappeared. She claimed to have been kidnapped and brought over the Mexican border, but biographers feel certain it was actually a way to cover up her affair with a man named Kenneth Ormiston. She faced a grand jury for the kidnapping investigation, but it didn't draw any official conclusions. McPherson spent the rest of her life preaching and building a following before dropping dead in 1944 at the age of 53. She took too many sleeping pills with an allegedly forged prescription and had a heart attack. Accident from trying to cure her insomnia, or a purposeful overdose? Only Jesus knows.

One of the many historic homes in Angelino Heights
ECHO PARK HOUSES THE MOST WELL-PRESERVED HISTORIC L.A. NEIGHBORHOOD
Technically Bunker Hill is the oldest neighborhood in Los Angeles, but it lost the possibility for long-term legacy after most of its original structures were razed in the 1950s and 1960s for "slum clearance." This makes Angeleno Heights the oldest neighborhood still standing in Los Angeles. The section of Echo Park below Sunset, East of Echo Park Ave., and West of the 101/110 freeway interchange includes some of the most historic homes in the whole city. While the Victorian and Craftsman homes fell into disrepair post-WWII, the 1980s marked a turn towards conservation after the neighborhood was formally recognized as an historic district (the first such recognition in L.A.).
Now the neighborhood features well-restored homes on hilly streets overlooking downtown and the rest of Echo Park. The 1300 block of Carroll Avenue is in the National Register of Historic Places because of its high concentration of Victorian homes. The Los Angeles Conservancy hosts regular walking tours of the neighborhood, which includes visiting inside two of the private residences.
The beautiful, well-preserved homes have also attracted many film and television shoots over the years. The television show Charmed filmed at 1329 Carroll Ave. and the house from the Thriller music video sits at 1345 Carroll Ave. Other neighborhoods like University Park and West Adams have large numbers of architecturally beautiful homes, but none have the high concentration and level of preservation of Angeleno Heights.

A lotus flower blooming on Echo Park Lake (Photo by dorable821 via the LAist Featured Photos pool on Flickr)
THE LOTUS FLOWERS SURVIVED THANKS TO A HORTICULTURAL THIEF
The Lotus Festival is a yearly tradition at Echo Park Lake, but it wouldn't still be happening if nature had been left to its own devices. According to the L.A. Times, the floods and storms of 2005-2006 first marked potential danger for the flowers. They started growing later and more sparsely after those years, dying also from the growing trash and pollution in the lake. By 2008, the flowers had all died. The Lotus Festival kept going for the next few years, despite the lack of flowers, with most people assuming the flowers were gone for good.
In 2013, though, when the lake reopened, the lotus flowers bloomed again. How did the lake go from a handful of dying flowers to a lush bed for lotus blossoms? Thanks to the stealth thievery of Randy McDonald. Back in 2005, during the well-manned Lotus Festival, he snipped a single strand and brought it to Reseda with him to grow and sell lotus runners. He rarely told people about his heist, but word got around regardless, and during the lake's restoration he began receiving calls to verify whether he had the Echo Park Lake lotus flowers. Eventually Josh Segal, the landscape architect for the renovated lake, found McDonald and asked him about his stash. McDonald admitted the plants were from the strand he stole years prior, and after a bartering process he sold the flowers back to L.A. for $30,000.
Thanks to McDonald, we can continue to observe the beautiful flowers and celebrate the Lotus Festival in style. It's a true L.A. story to have an iconic component of a community essentially held hostage. Plus, the lotus flowers aren't even native to Los Angeles, as integral to Echo Park as they may be. The original batch was imported from China in the 1920s by none other than Aimee Semple McPherson. Like our famous palm trees, our water, and our historians, is anything or anyone actually from Los Angeles? Or are we all holograms, floating in the sunny breeze, pretending we can manifest our own roots rather than letting them tangle naturally in the soil of our pasts?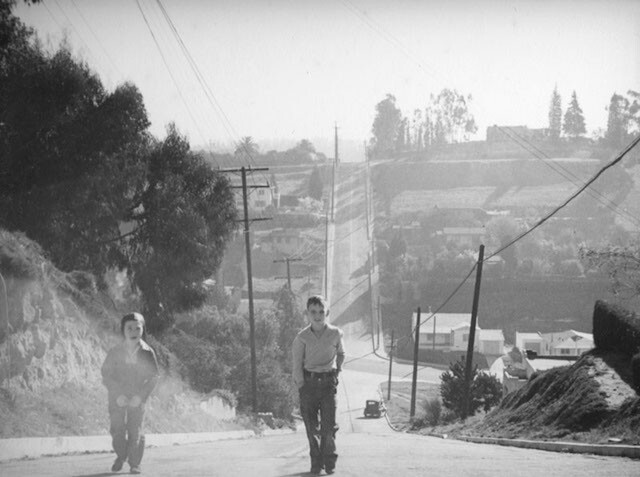 Baxter Street in 1937. (Photo courtesy of the Los Angeles Public Library Photo Collection)
IT INCLUDES ONE OF THE STEEPEST STREETS IN LOS ANGELES
Los Angeles has some of the steepest streets in the nation. Our sprawling hills and resplendent views make for some iconic L.A. visuals, but sometimes the visual isn't worth the terror of driving your car down a 32% grade. Echo Park has three of those streets: Fargo, Ewing, and Baxter. While they're all equally steep, Baxter stands out as the behemoth because it's the longest. While technically it's not the steepest in Los Angeles (Eldred Street in Mount Washington and 28th Street in San Pedro both hover around a 33%), it gets far more traffic&emdash;and therefore is infinitely more terrifying.
It hasn't seen the same redevelopment as the rest of the neighborhood because of how difficult it is to navigate. It only exists because developers in the 1890s imposed a grid system on the hilly area. Baxter Street became a pedestrian thoroughfare to connect to the streetcar system of the era (a line went up and down Echo Park Ave.).
A better way to experience the street is to avoid driving on it entirely. Instead, drive up Echo Park Avenue, grab a coffee at Fix, and walk to the hidden staircase at the eastern end of Baxter. It's one of the steepest flights of outdoor stairs in the city, and it drops you at the top of Elysian Park. Take in an incredible view of downtown's skyline without any concern about your car losing control and plummeting to your death.

Tom of Finland's room at the Tom of Finland Foundation's house in Los Angeles, 2002; photographed by Henning von Berg. (Photo via Wikimedia Commons)
THE NEIGHBORHOOD PLAYS A CRUCIAL ROLE IN THE HISTORY OF EROTIC ART
L.A. has a history of starting movements only to have their impact co-opted by New York. Hip-hop, pop art, and all manners of civil disobedience have crucial roots in L.A. despite most national recognition existing for N.Y.C. alone. One slight in particular is the roots of the LGBT movement. The protests at Black Cat Tavern in 1967 pre-dated the Stonewall riots by two years, but the general historical consensus marks Stonewall as the beginning of the struggle for gay rights. A similar erasure happened in gay art, and the history lies in Echo Park.
Tom of Finland was a Finnish artist who worked in erotic illustration and whose work helped transform the public image of gay men. While Robert Mapplethorpe is often cited as a groundbreaking artist for aestheticizing homoerotic sexuality, Tom of Finland had been drawing muscle and leather men for years prior. What started as a personal hobby developed into a public persona after he submited a cover illustration to an American muscle magazine in 1956 and received editorial and public acclaim. He maintained a career in advertising for many years, but eventually moved into art full time. Tom of Finland had a house in Echo Park that became a meeting ground for gay artists of his era. Located at 1421 Laveta Terrace, it now serves as the headquarters for the Tom of Finland Foundation, the goal of which is to promote Tom of Finland's art as well as elevate erotic art to serious critical appreciation.