Stories like these are only possible with your help!
Your donation today keeps LAist independent, ready to meet the needs of our city, and paywall free. Thank you for your partnership, we can't do this without you.
Yum! Infanticide! | Photo courtesy of DreamWorks
It ain't Pixar, but Kung Fu Panda isn't a half-bad flick. The voice-over talent makes up for the relatively uninspired animation. Get Smart looked like a total bomb coming out of the gate, but Steve Carell did a decent job as Maxwell Smart and is Anne Hathaway ever not fun to watch? Shrek-branded prostitution alert! Before there was The Dark Knight there was the grim and great Batman: The Animated Series. Never thought much of Shane West until I saw him go for broke as Darby Crash in What We Do Is Secret.
Kung Fu Panda
Get Smart
Futurama: Bender's Game
Shrek the Halls
Transsiberian
The Complete Master Works 2
Return to Sleepaway Camp
Batman - The Complete Animated Series
When Did You Last See Your Father?
What We Do Is Secret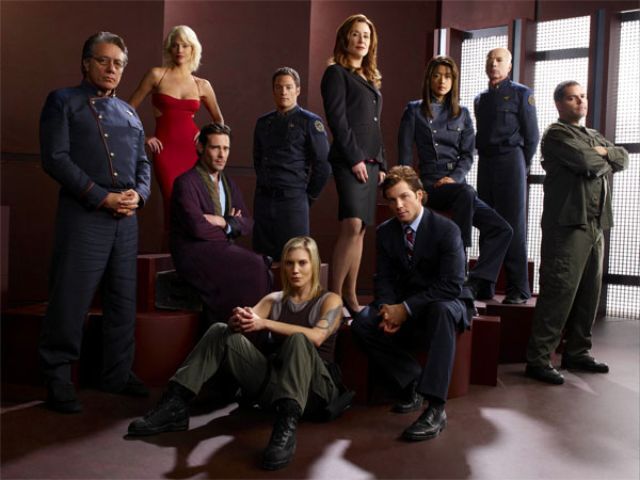 Drop what you are doing! Watch this show immediately! | Photo courtesy of Sci-Fi Channel
To all who have never committed to committing to the best show on television, now is your chance to catch up on the complete series to date of Battlestar Galactica. I know, I know--science fiction is not your thing, you're saying. Ignore that. This ain't sci-fi. This is a richly-imagined alternate universe that will pull you in quickly and never let you go. And is there a bigger badass than Katee Sackhoff right now? Me say no. Two long overdue Cassavetes' films get the Criterion treatment this week. If you've never quite "gotten" Ben Gazzara, watch Chinese Bookie. Same goes for Gena Rowlands in A Woman Under the Influence.
Battlestar Galactica Franchise Collection
A Woman Under the Influence
The Killing of a Chinese Bookie
A Christmas Story (Ultimate Collectors Edition)
Arctic Monkeys at the Apollo
Budd Boetticher Box Set
Get Smart - The Complete Series Gift Set
Fraggle Rock: The Complete Series Collection
The Gregory Peck Film Collection
Bikini Bloodbath Carwash