This is an archival story that predates current editorial management.
This archival content was written, edited, and published prior to LAist's acquisition by its current owner, Southern California Public Radio ("SCPR"). Content, such as language choice and subject matter, in archival articles therefore may not align with SCPR's current editorial standards. To learn more about those standards and why we make this distinction, please click here.
CMJ Day Three
Before you read more...
Dear reader, we're asking you to help us keep local news available for all. Your financial support keeps our stories free to read, instead of hidden behind paywalls. We believe when reliable local reporting is widely available, the entire community benefits. Thank you for investing in your neighborhood.
Whew! We're a little more than half-way through this music marathon in New York and I'm starting to realize how similar this experience is to an actual marathon. It requires a lot of endurance, patience, and you'll wish you were an amputee afterwards. With two more days left, I'm still yearning for more and I'm certain that CMJ's final days will sate me.
Yesterday started off a bit slow. I began my trek in Brooklyn to see up and coming Kemado Records artist Blood Ceremony. I've been a huge fan of Kemado ever since they signed Dungen, another 70s throwback band of sorts. Blood Ceremony hail from Toronto and they are equal parts Black Sabbath and Jethro Tull. Imagine a small, ruddy Canadian girl belting over pre-Metal riffs, sporadically piping notes through a flute like Ian Anderson. The drummer wore a smile from ear and ear whilst fervently pounding. He dissected the songs aloud, "Ok, now here's the second part!" It's clear they are in the rudimentary stages of their band development. They're still working out the kinks of live performance, but there is something tremendously promising about this Canadian act. I'm positive their debut will turn all the blogger's heads.I proceeded to bounce back into the city to catch another wonderful Canadian act at Webster Hall called Holy Fuck. They happened to be opening for UNKLE and so you can imagine how packed the place was. The gargantuan space was well-suited for this type of expansive electronic bashings. I expected to be blown away, but for some reason I got bored. I stuck around for a few songs and pined to continue my Canadian streak.
So I left Holy Fuck to try and catch Halifax natives Wintersleep. There is a densely concentrated area of the Lower East Side around Ludlow that serves as CMJ heaven. There are at least three to four venues within a few blocks of each other. I walked around to get a feel for the venues I'd be visiting in the near future. Cake Shop, Mo Pitkins, Fat Baby, and Arlenes Grocery are at the heart of this stretch. Young people were flocking to and fro, the area was teeming with music and liveliness. Anyways, Fat Baby was packed to the back door with people. Someone must have let the hype out of the bag because I haven't seen a venue this small, this packed all CMJ. I was extremely disappointed to discover this overpopulated, miniature venue and thus I decided to check out yet another Canadian band called The Golden Dogs nearby. They played as a part of Yep Roc's wonderful showcase. The house was packed and there wasn't still head in the room. Everyone was rocking and bobbing along to their endearing Indie rock. The Golden Dogs contain all of these great Canadian elements that I relate to Broken Social Scene and AC Newman. Yet they incorporate some very distinct retro qualities, like front man Dave Azzolini's vocals, that make their music more distinctive. The singer had glasses that were about as thick as my dad's during the 70s. It brought me back, way back.
I thought I might see how things were doing over at the Blender Theatre because they've been holding late night Blender Sessions over there. Let me just say that Live Nation is a really screwy corporate devil. They weren't letting people in until 12:30 even though every single piece of information clearly delineated a 12 o'clock start time. Two notable bands, Air Traffic and 1990s, were slated to open for Spoon and so I figured that they might want to start on time. Nope. I imagine things got out quite late, like 3 or 4 in the morning. I'm no sucker. I left for the Highline Ballroom to catch Islands.
As I arrived at the Highline Ballroom, The Octopus Project was playing. Catching a part of their set was pure ecstasy for me. I have always wanted to see their experimental, electronically driven pop play out live. They used all sorts of crazy instruments including a Moog I have never come across. The machine transformed front woman Yvonne Lambert's vocals into oscillating goodness. People were really into them, which surprised me because they hail from Austin and I didn't expect their reach to extend this far. There must be something said about their in-between banter. I wished they had abstained. Band member Toto Miranda spewed happy-go-douche-y (yes, I just coined this term) nothings to the audience between songs and I just wanted to hurt myself for having to endure it.
Next, Montreal's Islands took stage. I was excited to see them because I haven't seen Nick "Diamonds" Thurston since The Unicorns' days. The hefty band took stage with sax, violins, synths, and hit us with a barrage of Islands classics. However, a friend noted that they opted to leave out the expected, "Rough Gem", for the unexpected, brand spanking new tunes. I left early to head out to Brooklyn again, but I hear that Thurston even managed to slip a Who vocal reference our way. I knew there was something that I liked about that young man. Oh yes, it's his unabashed display of his classic rock and roll roots. Although I'm pretty sure the only impetus for seeing Islands is Thurston's past, that Unicorns' greatness.

I hopped in a cab to Brooklyn in order to catch my favorite Brit-dance group New Young Pony Club at Studio B. They rarely make it out to the states and I had been anticipating their Modular People showcase for quite some time. Studio B is in Greenpoint, Brooklyn and that translates to the middle of nowhere. Yet this single club manages to draw the biggest dance mainstays in the scene. Whenever Justice or Mstrkrft come through town they're more than likely hitting up this place. I walk in and New Young Pony Club is rocking out. This place was hopping like a club in Manhattan, except this was in a desolate, industrial area of Brooklyn. People were getting down and dirty, throwing their hands in the air like they just didn't care. It was pretty astonishing and unforgettable.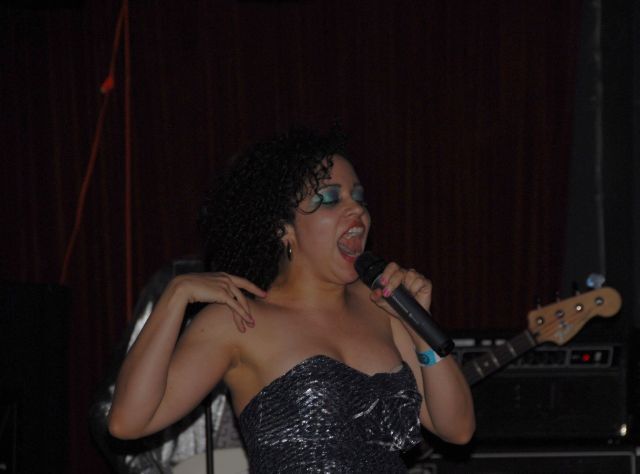 Lead singer Tahita Bulmer led NYPC through a set of hopping tunes from their latest Fantastic Playroom. She was graceful, at times nearly falling out of her low-cut dress, as well as compelling. Bulmer kept prodding the New Yorkers to get into it, "Come on NY! I know you guys can do better than that!" Songs like "Ice Cream", "Get Lucky", and "The Bomb" were all extremely well-received. The culmination of the entire performance was their cover of Technotronic's "Pump Up the Jam". The room was hopping and it started to smell like rancid puke, a familiar club smell, towards the close of their set. However, people wanted more of their lively antics after they left stage. So New Young Pony Club came out and granted us a meager yet fulfilling encore. Make sure you catch their LA debut at the Echo on October 30th!Since it was impossible to get a cab ride back, I hopped on the G and transferred to the L at Metropolitan. I ran into Foals (aka "the next Bloc Party, only way better") in the subway while they were waiting for the L train into Manhattan. Looks as though they'll be playing around for the next two days, which means I'll be in attendance. This trip has been absolutely wild and when it's all over I'll have met every band in the endless tunnels of this great city.
More music mayhem to come...