CD Review: Nortec Collective presents "Bostich + Fussible: Tijuana Sound Machine" plus LA Gigs and Appearances
Stories like these are only possible with your help!
You have the power to keep local news strong for the coming months. Your financial support today keeps our reporters ready to meet the needs of our city. Thank you for investing in your community.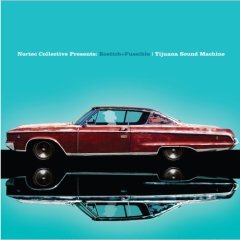 Artist: Nortec Collective
Album: Bostich + Fussible: Tijuana Sound Machine
Label: Nacional Records
Release Date: May 6th, 2008
Listen to the track "Tijuana Sound Machine":
Tijuana-based electronica masters Nortec Collective have a new album coming out next week and they are coming to LA to launch it. They will start off by:
1. Appearing at the Glass House in Pomona on Thursday, May 1st.
2. Appearing live on KCRW's Morning Becomes Eclectic for a live performance on Friday, May 2nd at 11:15am.
3. Performing at the Echo on Saturday, May 3rd.
4. Holding a Cinqo de Mayo listening party at La Cita on Monday, May 5th.
All this activity is worth it because "Bostich + Fussible: Tijuana Sound Machine" is 15 excellent tracks of Norteno-flavored funky dance and lounge music. This is the third album release by the Grammy nominated Nortec Collective and from the first song, "The Clap" (hey, no cute comments about it being "infectious") you'll be hooked by the familiar accordion chords, hand claps, vocalizations, brash brass, and polka-esque sounds that you hear all over LA, except that these sounds are refined, punctuated, and blasted in step with pumped up rhythms and just enough techno flair (like vocoders and heavy-duty low end synths) to create an entirely new experience.
Favorite tracks are "The Clap", "Brown Bike", "Tijuana Sound Machine", "Mi_Casita", and especially "Mama Loves Nortec". This is fun, it's weird, and I'm practically dancing in my car listening to this stuff so I can only imagine how crazy these shows are going to be as this team will have more than three albums of dance music to draw on. Highly recommended!