Borat Film Review: Why Aren't the Jews Protesting?
LAist relies on your reader support, not paywalls.
Freely accessible local news is vital. Please power our reporters and help keep us independent with a donation today.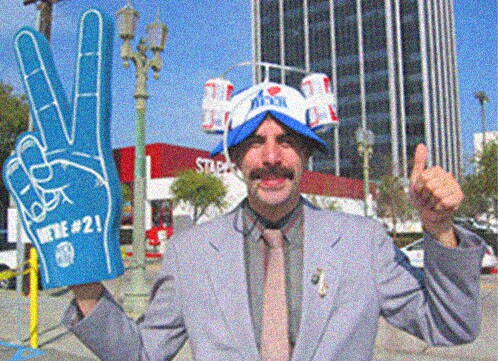 I have a nice friend who hooked me up to see a special screening of the new Borat movie. Not only was we able to get to go to the screening, but we were on "the list" and got to get out of the long line, bypass all the riff-raff and make our way into the theater to take the primo seats behind the super primo seats that were reserved for "PRESS".
And let me tell you that all the people that ended up sitting in the PRESS section did not look like PRESS at all. Most of them looked either gay, straight, or like comic book characters straight out of Sin City. AND none of them even had clipboards or writing implements. We were very suspicious of their credentials for sitting in that super primo row. Highly questionable.
We put our feet on the backs of their chairs. We didn't have snacks.