Borat Film Review: Why Aren't the Jews Protesting?
Stories like these are only possible with your help!
Your donation today keeps LAist independent, ready to meet the needs of our city, and paywall free. Thank you for your partnership, we can't do this without you.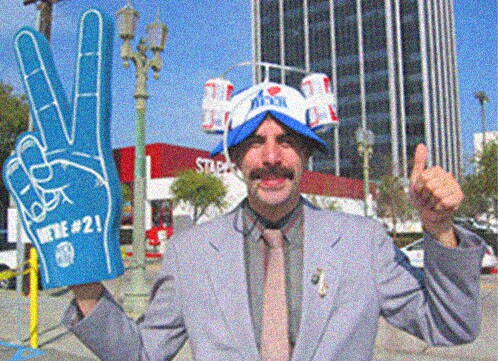 I have a nice friend who hooked me up to see a special screening of the new Borat movie. Not only was we able to get to go to the screening, but we were on "the list" and got to get out of the long line, bypass all the riff-raff and make our way into the theater to take the primo seats behind the super primo seats that were reserved for "PRESS".
And let me tell you that all the people that ended up sitting in the PRESS section did not look like PRESS at all. Most of them looked either gay, straight, or like comic book characters straight out of Sin City. AND none of them even had clipboards or writing implements. We were very suspicious of their credentials for sitting in that super primo row. Highly questionable.
We put our feet on the backs of their chairs. We didn't have snacks.
If you've heard anything about this movie, you've probably heard that the president of Kazakhstan is mad because Borat doesn't portray his country in a very favorable light. And to that we all say BOLLOCKS! GET A SENSE OF HUMOR PRESIDENT OF KAZAKHSTAN! If anything Borat is learning people that there IS such a country and maybe they will take the time to look you up on Wikipedia to see what Kazakhstan is all about. Hey, I'm sure tourism to Kazakhstan will explode after this movie comes out because of my man Borat brining all the attention to his fine country. So just shut up President of Kazhakstan and enjoy the ride you will soon be getting.
Actually, after viewing the film, I immediately wondered to myself why the Jews aren't boycotting this film. This film rips on the Jews like every 13 minutes. And it's pretty brutal. Jews have the right to be more angry than the country of Kazakhstan. Go Jews Go! Get your boycott on! Go meet with President Bush and tell him to not release this film! You have the right!
Women should also be pissed off. Women are bashed left and right in this film. You should see it. Man, if I were a woman, I would've walked out of that movie after the first 5 minutes! Instead I was too busy laughing my ass off.
Let me tell you something about this movie. Even if you are a Jew or a woman, or if you have two legs or even just one leg, or if you have an overbite or at least 2 nostrils, you will love this film. It will have you LOL'ing all over yourself. I LOL'd through about 75% of the movie. I ROFLMAO'd through about 20% of the movie. And I J through the other 20%. That equals 115% because the movie has so much funny and offensive in it, it has an extra 15% of reaction allowance.
I won't get into an explanation of who Borat is. In my opinion, if you don't already know who Borat Sagdiyev is, you are outside the circle of cool unlike myself who is inside the circle of cool. I feel sorry for you.
In this fine film, Borat leaves his country of Khazakstan to come to America to make "cultural learnings of America make benefit glorious nation of Kahzakstan." He starts in New York and makes his way across country to find his true love. His true love is someone we are all familiar with. Let's just say Borat has good taste. He has many adventures along the way and chaos usually ensues.
If you like the usual 5 minute Borat segments on Da Ali G show, picture this as a bunch of those strung together under one main storyline.
Be prepared to be offended, shocked, uncomfortable, horrified and laughing your ass off.
I give it sexy time hand release explosion in mouth.