This is an archival story that predates current editorial management.
This archival content was written, edited, and published prior to LAist's acquisition by its current owner, Southern California Public Radio ("SCPR"). Content, such as language choice and subject matter, in archival articles therefore may not align with SCPR's current editorial standards. To learn more about those standards and why we make this distinction, please click here.
21 Of Our Favorite Events In Los Angeles This Week
Support your source for local news!
The local news you read here every day is crafted for you, but right now, we need your help to keep it going. In these uncertain times, your support is even more important. Today, put a dollar value on the trustworthy reporting you rely on all year long. We can't hold those in power accountable and uplift voices from the community without your partnership. Thank you.
Here are 21 of our favorite events happening in Los Angeles this week. We'll be back on Thursday with our Weekend Planner column to help you plan—what else?— the weekend ahead. And don't check out the April Guide for other events and suggestions, too.
MONDAY, APRIL 6
COMEDY: The free comedy show Beta Test with Chris Hardwick is at the NerdMelt Showroom on Monday night at 9 pm. Hardwick and two comedian friends test out (hence, the name) 20 minutes of brand new stand-up material. The lineup is a surprise. RSVP to ensure a seat. The show is all ages, but those under 21 must be accompanied with a parent or guardian.
MUSIC: Legendary folk music icon Arlo Guthrie celebrates the 50th anniversary of the landmark event that inspired his 18-minute, spoken-word hit "Alice's Restaurant Massacree" (aka "Alice's Restaurant"), and later, a film of the same name. Guthrie makes three stops in the L.A. area this week, including Monday at 8 pm at the Walt Disney Concert Hall in DTLA; April 10-11 at The Irvine Barclay Theater and April 12 at the Santa Clarita PAC. Tickets for Monday's show range from $52.50-$124. Prices vary for both the Irvine and Santa Clarita shows.
ZINE: LA Zine Fest presents a free craft night at pehrspace on Monday at 8 pm as part of a Vanity Projects Residency. Create new zines, craft buttons and collages with the folks from the LA Zine Fest. Vegetarian potluck, too.
MUSIC: School Night at Bardot in Hollywood on Monday night features live sets by Francisco the Man, Lost Lander, Talk in Tongues, Navvi and a special guest. DJ sets by Dan Digs and Little Indian. 18+ Free with RSVP. Doors at 8 pm.
TUESDAY, APRIL 7

A few tickets remain for Whisky Guy Rob's whisky pairing dinner on Tuesday night in DTLA. (Image: Christine N. Ziemba)
WHISKY PAIRING: Fresh from a wildly successful whisky dinner last week with Chef Andy Lee of Rascal, Rob "Whisky Guy Rob" Gard returns with another whisky pairing on Tuesday night at 7 pm in DTLA. The whisky expert, and author of Distilling Rob: Manly Lies and Whisky Truths, partners with another chef at a secret location to take participants on a journey of whiskies from four countries, including two exclusive 20+ year old Scotches. Only a few tickets (at $100 each) remain. Email info@whiskyguyrob.com for details.BEER + SCIENCE: The Columbia Memorial Space Center in Whittier holds a City of STEM (Science, Technology, Engineering and Math) fair all week long, with events and activities targeting both children and adults. One of the fair's events, held offsite on Tuesday night at the Downey Brewing Company, appeals directly to the 21+ older crowd. The space center presents a Pub Science night, with topics that range from the science of brewing beer to what it's like to be a science consultant for TV shows. Guests include a brewer from Golden Road, Star Trek advisor Andre Bormanis and the Nerd Brigade, who'll run trivia games all night for prizes.
MUSIC: The South African four-piece band Civil Twilight plays The Troubadour on Tuesday to promote their upcoming third studio album Story of an Immigrant (out on June 2). Knox Hamilton opens at 7:30 pm. All ages. Tickets: $15.
BEER TASTING: Tony's Darts Away in Burbank welcomes Inglewood's Three Weavers Brewing on Tuesday beginning at 6 pm. Beers include: Stateside Session IPA, Expatriate IPA, Knotty DIPA, Day Job Hoppy Pale, Overnight Bender Belgian-Style Tripel and Southbounder Coffee Stout. Prices vary.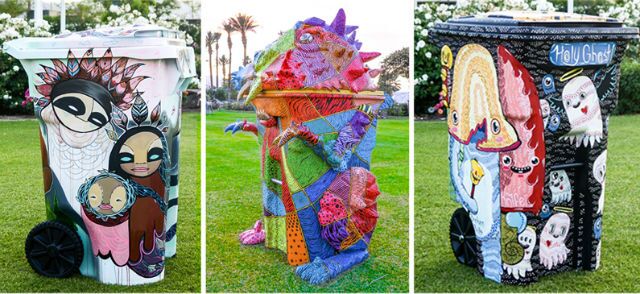 Check out the artsy recycling bins that will be used at Coachella later this month at a Global Inheritance party at Angel City on Tuesday night. (Image: Global Inheritance)
ART + RECYCLING: For the 11th year, Global Inheritance partners with Coachella organizers to "educate and inspire festival attendees" with its program—TRASHed: The art of Recycling. They've worked with a number of artists to redesign recycling bins, hopefully helping people think a little differently about waste and recycling. After the festival, the bins are donated to California schools. This year's bins will be on view at Angel City on Tuesday night for a little sneak peek party with music, drinks and art from 7-11 pm. RSVP requested. WEDNESDAY, APRIL 8
ART: Gallery GO in West Hollywood holds an opening reception on Wednesday at 7 pm for musician and visual artist Joseph Arthur. The gallery holds the L.A. premiere for Arthur's solo exhibition, Alien Flowers. The works recount Arthur's personal artist's journey from Akron, Ohio, and beyond. He's released 11 studio albums and has created art for most of the covers himself. The works will remain on view through April 26.
WINE CLASS: LA's Patina restaurant holds a Wine After Work class on Wednesday from 6-7 pm. Led by the restaurant's longtime sommelier Silvestre Fernandes, this week's class focuses on Bordeaux "from the Left and Right Banks in prestigious appellations such as Pomerol, Saint Émilion, Margaux, Saint Julien, and more." Taste wines that Patina usually only offers by the bottle. Classes are $50 per person. If you make a reservation for dinner at Patina for Tuesday night, then you can partake in a complimentary glass of any of the five wines on the tasting. RSVP for the wine tasting required.
FILM FEST: The Indian Film Festival of Los Angeles (IFFLA) opens its 13th year on Wednesday with an opening night screening and party for the world premiere of Haraamkhor, directed by Shlok Sharma . The five-day festival screens more than 25 films from around the Indian diaspora and bridges the gap between Hollywood and Indian Cinema. The festival also brings back its popular "Bollywood by Night" series that features live music and dance performances. Screening tickets: $15, additional fees apply for special events and gala parties.
MUSIC: The Grammy Museum and the Robert F. Kennedy Human Rights organization presents The Concert for Social Justice on Wednesday at the Fonda Theatre in Hollywood. La Santa Cecilia was just added to the already stellar lineup that includes musicians Jackson Browne, David Crosby & Graham Nash, Melissa Etheridge and Tom Morello. Spoken word performers include actors David Arquette, Chad Lowe, Dennis Haysbert, Martin Sheen and Alfre Woodard. Doors at 7 pm, show at 8 pm. Tickets: $55. All ages.
COMEDY: On Wednesday night at 8:30 pm, Penthouse Magazine presents the second Penthouse Burlesque & Comedy Night at the Comedy Store. The evening features comedians Kyle Kinane, Beth Stelling, Jermaine Fowler and Owen Benjamin along with racy burlesque performers, Penthouse Pets and other surprises. Doors at 8 pm. Admission is $20 with a two-drink minimum. 21+.

The Paley Center presents 'An Evening with Justified' on Wednesday night. Timothy Olyphant heads the cast on the FX show as Deputy U.S. Marshal Raylan Givens. (Image: Prashant Gupta/FX)
TV TALK: The Paley Center presents An Evening with Justified on Wednesday at 7 pm. Creator/executive producer Graham Yost is joined by cast members Timothy Olyphant, Erica Tazel, Jacob Pitts and other guests to discuss the FX show's journey and upcoming series finale on April 14. While tickets are sold out, the Paley Center is livestreaming the panel at 7:15 pm. COMEDY: Blessed is a new weekly comedy show in Chinatown's Grand Star Jazz Club, hosted by the sketch comedy group Blessed (Alison Stevenson and Megan Koester of Vice and Clare O'Kane of The Gulch). The show opens with a sketch and then several standup comedians do 10-minute sets. Wednesday's lineup includes: Solomon Georgio, Matt Peters and Ian Abramson. Free.
THURSDAY, APRIL 9
BOOK TALK: On Thursday at 8 pm, Book Soup and the Skirball Cultural Center present Moby and Gene Baur, who discuss and sign the book,Living the Farm Sanctuary Life: The Ultimate Guide to Eating Mindfully, Living Longer, and Feeling Better Every Day. The discussion, moderated by Time magazine's Joel Stein, will focus on the basics of living a vegan and animal-free life, "including eating in harmony with your values, connecting with nature wherever you are, and working to make the world a better place—for both the two- and four-legged." The event takes place at the Skirball; the event is not ticketed (first-come, first-served), but RSVP for the program. The book signing follows the discussion.
FILM FESTIVAL: The Third Annual Cinema at the Edge Independent Film Festival (CATE) takes over the Edgemar Center for the Arts in Santa Monica from Thursday to Sunday. The festival screens innovative, boundary-pushing "films of all genres that feature a distinct vision, a unique voice or a challenge to what is expected and accepted in the medium." CATE includes more than 50 narrative feature, documentary and short films along with opening and closing night parties, an award ceremony and a series of filmmaking panels. The festivities open with a cocktail party at 5:30 pm on Thursday, followed by a screening of Tom O'Brien's Manhattan Romance, in which a documentary filmmaker falls in love with his best friend and subject. Individual screening program tickets: $12; parties are $20-$25 and a full festival pass is $225.
MUSIC: Colin Hay (former lead singer for Men at Work, and a great solo singer-songwriter) plays shows this week at Largo on Thursday and Friday nights. While the Friday show is sold out, tickets remain for Thursday. Doors at 7 pm, show at 8:30 pm. Tickets: $30.
MUSIC: Jenny Lewis plays a sold-out show at the Echoplex on Thursday night at 8:30 pm. You might be able to score tickets from your favorite alternative ticket broker, but just know they were originally $23. The show is 18+.
DANCE: Louise Reichlin & Dancers celebrate 35 years with two works at the Bootleg Theater, which run from Thursday through Sunday. The dance troupe presents the first complete revival of The Tennis Dances since 1999 (in which the dancers use tennis balls, rackets and nets). The Tap Dance Widows Club mixes film and live performance to tell the story of "the love of three performers for their late husbands and the bond it created between them." Showtimes: Thursday, Friday & Saturday at 7:15 pm, Sunday at 2 pm. Tickets: $18-$25.
Related: April Events Guide: 20 of Our Favorite Events in L.A
Want the 411 on additional events and happenings in LA? Follow @LAist or me (@christineziemba) on Twitter.
Donald Trump was a fading TV presence when the WGA strike put a dent in network schedules.

Pickets are being held outside at movie and TV studios across the city

For some critics, this feels less like a momentous departure and more like a footnote.

Disneyland's famous "Fantasmic!" show came to a sudden end when its 45-foot animatronic dragon — Maleficent — burst into flames.

Leads Ali Wong and Steven Yeun issue a joint statement along with show creator Lee Sung Jin.

Every two years, Desert X presents site-specific outdoor installations throughout the Coachella Valley. Two Los Angeles artists have new work on display.