This is an archival story that predates current editorial management.
This archival content was written, edited, and published prior to LAist's acquisition by its current owner, Southern California Public Radio ("SCPR"). Content, such as language choice and subject matter, in archival articles therefore may not align with SCPR's current editorial standards. To learn more about those standards and why we make this distinction, please click here.
20 Of Our Favorite Events in Los Angeles This Week
Stories like these are only possible with your help!
You have the power to keep local news strong for the coming months. Your financial support today keeps our reporters ready to meet the needs of our city. Thank you for investing in your community.
Here are 20 of our favorite events happening in L.A. this week. If you need additional suggestions, then check out our March Guide, too.
MONDAY, MARCH 21
MUSEUM OF BROKEN RELATIONSHIPS (Exhibition preview)
On Monday night from 8-11 pm, Upstairs at The Ace Hotel holds a preview party for the upcoming Museum of Broken Relationships—slated to open later this spring in Hollywood. The museum, which crowd-sources its works, revolves around the concept of "failed relationships and their ruins." DJ sets by Devendra Banhart and Jimmy Tamborello. Free.
THE JOY FORMIDABLE (Music)
The Welsh indie rock band The Joy Formidable plays two nights (Monday-Tuesday) at the Roxy. The band's playing in support of its recent release Hitch. Everything is Everything opens both nights. Doors at 7:30 pm, show at 8:30 pm. Tickets: $25.
SCHOOL NIGHT (Music)
School Night welcomes live music and DJ sets from both up-and-coming and seasoned artists every Monday night at Bardot in Hollywood. This week's headlined by the sister roots rock 'n' soul act Larkin Poe, who will open for Elvis Costello later this week. Also on the bill are: Moxie Raia, Kloe, Methyl Ethel, with DJ sets by Pleasure Principle, Firefly, Dreamlyfe and Chris Douridas. Free with RSVP for those 21+; $10 for 18+ with RSVP. Doors at 8 pm.
TUESDAY, MARCH 29
LOST & FOUND AT THE MOVIES (Discussion)
The Library Foundation of Los Angeles' Lost & Found at the Movies series presents the program, From the Valley to Valyria: Word and World Building in Hollywood, on Tuesday at 7:30 pm. The discussion explores the world of language creation with David J. Peterson, linguist and language creator, from Dothraki and High Valyrian (Game of Thrones) to Castithan (Defiance) and Shiväisith (Thor: The Dark World). He's also author of The Art of Language Invention: From Horse-Lords to Dark Elves, the Words Behind World-Building. Free with RSVP.

British comedian Noel Fielding is at the Fonda from March 29-April 2. (Image: Noel Fielding)
NOEL FIELDING (Comedy)
British comedian, Noel Fielding, in his new show, An Evening With Noel Fielding, running Tuesday through April 2 at The Fonda Theatre. Fielding is the star of Mighty Boosh, Luxury Comedy and Nevermind the Buzzcocks. The phantasmagorical show mixes stand-up, animation and music. All ages. Tickets: $41.LOS ANGELES AS A SUSTAINABLE CITY (Talk)
The Los Angeles Department of Cultural Affairs' Los Angeles Municipal Art Gallery (LAMAG) presents Los Angeles as a Sustainable City, a conversation on Tuesday from 7-9 pm. The event's being held in conjunction with the pioneering exhibition Skin, now on view at the gallery through April 17. The panel discussion explores the role that art and cultural workers can take in developing Los Angeles as a "sustainable city." Panelists include Nancy Halpern Ibrahim, Marlene Montanez, Dr. Vivian Price, SKIN artists Holly Tempo, Fabian Debora and Ben Caldwell, moderated by Anuradha Vikram, director of Residency Programs at 18th Street Arts Center.
WEB SHOW SHOW (Comedy)
The Web Show Showis a comedic video competition featuring curated lineups of L.A.'s web talent at M.I.'s Westside Comedy Theater on Tuesday at 8 pm. Each video screened gets critiqued by a three-judge panel, and the audience votes for their two favorite entries to determine the prizes. On the program: "Mariah Carey All I Want For Christmas Is You" cover from the Paul Hennessy Show; "Ride With Me" by Alex Spresser; "Dating Disasters" by Jahnna Lee Randall; "Little Dude Anthem" by Ben Giroux; "My Life Worked Out" by Eirinn Disbrow; and "Waze For Sex" by Dan Stowell. Tickets: $5.
WARP ZONE (Comedy)
Warp Zone is a free monthly stand up show that takes place the last Tuesday of the month at the Virgil. Hosted by comics TK Kelly and Keith Carey, this week's lineup includes Theo Von, Tony Hinchcliffe, Paige Weldon, Nathan Hurd, Grant Gordon, Bryan Cook and surprise special guests. Doors at 9 pm, show at 9:30 pm. Free admission, no drink minimum.
1000 COMICS TO SEE BEFORE YOUR DIE (Comedy)
Zack Bornstein brings a new monthly live show to the NerdMelt Showroom on Tuesday night at 9 pm called,1000 Comics to See Before You Die. The premiere show features Anthony Jeselnik, The Lucas Bros, Nicole Byer, Ali Wong, and Dana Gould. Tickets: $8 in advance, $10 at the door.
WEDNESDAY, MARCH 30
AN EVENING WITH BERNSTEIN, DILTZ AND NASH (Talk)
Morrison Hotel Gallery hosts Behind The Lens - An Evening with Bernstein, Diltz and Nash on Wednesday night at Largo. Photographers Henry Diltz and Joel Bernstein, and musician and photographer Graham Nash will conduct a multi-decade retrospective on the big screen. Doors at 6:30 pm, show at 7:30 pm. Tickets: $50.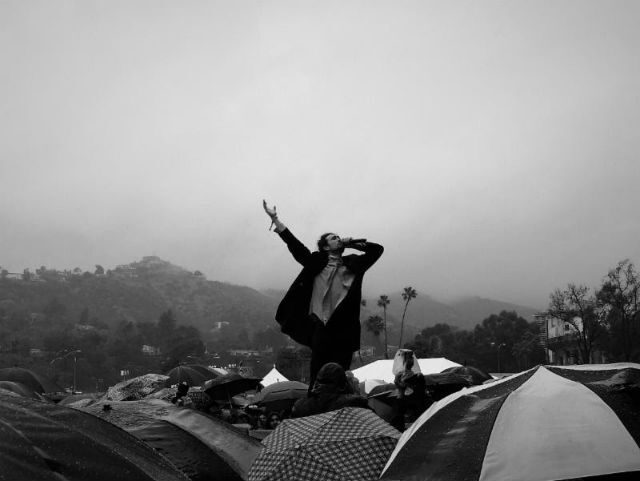 The Darkroom on Melrose opens a new photo show just in time for festival season. (Image: Alex Ebert of Edward Sharpe And The Magnetic Zeros by Cody Black)
DESERT STARS: THE LINEUP (Photography)
The Darkroom—Melrose's rock'n'roll bar—opens its sixth photography show Desert Star: The Lineup with a party on Wednesday from 7-9 pm. The exhibition showcases the images of KROQ photographers Cody Black and Alex Rauch and freelance music photographer Adam Elmakias and features only bands and artists that are performing at Coachella.
AWP (Writer's conference)
The Association of Writers and Writing Programs (AWP) is in town this week, from Wednesday through Saturday at the Los Angeles Convention Center and the J.W. Marriott at L.A. Live. More than 12,000 attendees are expected to attend the event, which features numerous presentations, readings, panels, lectures on contemporary literature. The accompanying bookfair hosts hundreds of presses, journals and literary organizations from around the world, too. Full conference registration: $200-$300, but Saturday only passes are $45.
RHYS DARBY (Comedy)
Rhys Darby performs stand-up comedy on Wednesday at 8 pm at the Westside Comedy Theater. The night also features the 20-year reunion of Rhysently Granted, sketch comedy by Darby and Grant Lobban. Tickets: $15, ages 21+.
SUNTORY WHISKY DINNER (Food + drink)
Demi Stevens, owner of Hey 19 Public House in Torrance, leads guests on a Whisky Dinner on Wednesday night at 7 pm, featuring a five course tasting menu created by Executive Chef Vasili Tavernakis. Stevens will explain the background and crafting of the Suntory Japanese whiskies selected for the night. Cost: $85. Call 310-378-8119 for reservations.
THE USED (Music)
The Used celebrates the release of its new album Live and Acoustic at The Palace (out April 1) by holding a special in-store performance at Amoeba in Hollywood on Wednesday at 6 pm in which the band will be joined by gospel singers and a string quartet. 500 fans will be able to purchase the record prior to doors, guaranteeing admission and taking home a limited-edition "The Used - Live at Amoeba."
THURSDAY, MARCH 31
WAYNE FEDERMAN FILM FESTIVAL (Comedy + film)
The 5th Annual Wayne Federman International Film Festival—the film fest that lets comedians pick the movies to screen and also perform, do the intros and participate in post-screening Q&As—runs this weekend. The festival begins on Thursday with Urban Cowboy (presented by Tig Notaro) at 7:30 pm, followed by Sgt. Pepper's Lonely Hearts Club Band (presented by Matt Besser) at 10:30 pm on Thursday. Other comedians participating are Zach Galifianakis, Keegan-Michael Key, John Mulaney, Patton Oswalt and more. Tickets: $14.
VR ART SHOW (Art)
HTC Vive presents a VR Art Show hosted at VICE on Thursday night 5-9:30 pm. The night includes live Tilt Brush performances from artists including Chris Prynoski, James Haunt and Michael Farhat; a Google Cardboard craft station and VRart galleries. The event is technically sold out, but there is a waitlist available.
CATNIP CLUB (Dance)
The Catnip Club is "the world's only private members' club dedicated to pussy lovers and those who like the feline things in life." The club throws cat-themed events in a playful, safe space, and this week, they're at Pour Vous with performances by The Pussies and music from The Liberator playing the best in disco, house, nu-disco and italo. Dress code disco, new wave, and glitter rock & roll preferred. Admission is free with CNC membership $10 (lifetime membership $250).
THE BLOOD OF JESUS (Film)
Film Independent at LACMA presents a free screening of The Blood of Jesus on Thursday night at 7:30 pm. The 1941 drama, written and directed by actor Spencer Williams (from Amos & Andy), features an all-black cast. The film focuses on the accidental killing of a woman that "sets off a chain of events that includes a musical number that's a de facto war between the musical forces of Heaven and Hell; it's a dance-off squaring good (gospel) against evil (jazz)." Given the time period, the film is a rare example of African American actors, dancers and performers who starred and weren't relegated to roles of sidekicks and domestic help. The short film, "Regeneration," precedes the film.
WRITERS PARTIES (Drinks + lit)
There's a whole new meaning to the term "getting lit" this week with a number of ancillary events being held in conjunction with the AWP conference. To name a few of these parties: On Tuesday, The Last Bookstore holds The Totally Unofficial AWP Pre-show from 7:30-9:30 pm. On Wednesday, La Luz de Jesus Gallery holds a Two Dollar Radio & McSweeney's AWP PARTY from 6-9 pm. On Thursday at 5 pm, States of Terror presents the horror reading event Creature Feature! At Book Show in Highland Park. On Thursday at 7 pm, The Continental Club hosts Why There Are Words Visits L.A, a SoCal version of the Bay Area reading night; The Twin Cities storytelling show The Rockstar Storytellers Do LAis also at 7 pm at Blankspaces in DTLA ($15). And the Poetry Brothel returns to L.A. on Thursday from 8pm-12am at The Next Door Lounge in Hollywood for a night of interactive poetry, music and burlesque. Tickets: $30.
Want the 411 on additional events and happenings in LA? Follow @LAist or me (@christineziemba) on Twitter.