Pencil This In: Tiny Vaudeville Benefit, Singin' in the Rain
Stories like these are only possible with your help!
You have the power to keep local news strong for the coming months. Your financial support today keeps our reporters ready to meet the needs of our city. Thank you for investing in your community.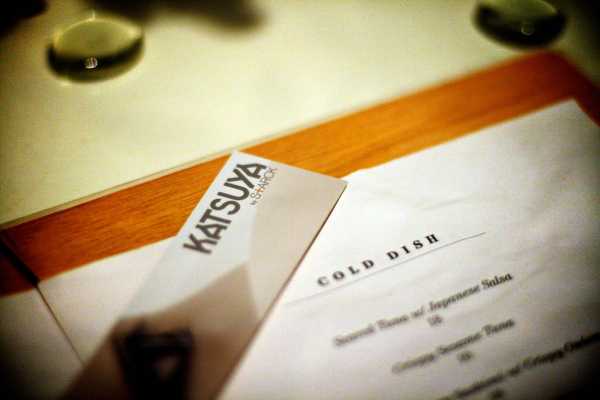 dineLA starts today...so go out there and eat! / Photo by sfxeric via LAist's flickr pool.
It's a robust Monday with interesting events around town:
VAUDEVILLE*:
The writing and literacy nonprofit 826LA presents "Tiny Vaudeville" tonight at 8 pm at the Echoplex. It's the first night of a new monthly series -- a 90-minute show that features acts from live music, short films, stand-up and sketch comedy, novelty acts, lectures and slide shows. Tonight's show's hosted by Craig Cackowski and the Dan Bern Orchestra and features feats of prestidigitation by Derek Hughes, the music of Pop Levi and a super secret Celebrity Guest reading 826LA student work from Thanks and Have Fun Running the Country.
EATS
It's week one of dineLA Restaurant Week, where participating restaurants will serve specially priced three-course meals for lunch and/or dinner. The meals range anywhere in price from $16 to $44 per person, excluding beverages, tax and gratuity. So go out there and fill up your belly while stimulating the economy at the same time.
MUSIC:
The South Pasadena Music Center and Conservancy hosts a New Music Monday concert series starting tonight. For $5 admission hear the musical stylings of Non Credo, an LA-based multi-instrumentalist duo Joseph Berardi and Kira Vollman, performing excerpts from their latest work, "Impropera" -- an improvised, improper imp opera. Other guests include pianist Motoko Honda and the Cat Hair Ensemble.
MUSICAL FILM
One of the greatest movie musicals Singin' in the Rain screens at 7 pm tonight at the ArcLight in Sherman Oaks. MGM hit on all cylinders when they paired Gene Kelly, Donald O'Conner and Debbie Reynolds as actors making the transition from silent to "talkie" films. The film is part of AFI's "100 Years…100 Movies" series.
ART TALK
LACMA's Decorative Arts and Design Council Lecture Series features "The Strange Genius of Sir John Soane" tonight at 7 pm. Tim Knox, director of Sir John Soane's Museum, London, will discuss the work and life of architect Soane. "Soane's work includes his own museum as well as the Bank of England and the Dulwich Picture Gallery." General admission tickets are $20, $15 for LACMA members and free for Decorative Arts and Design Council members and students.
*Pencil pick of the day