Support Norco '80
LAist Studios relies on listener support to bring you podcasts you love.
*Editor's note:For clarification, Deputy Sheriff Andrew Delgado-Monti carried both a revolver and a shotgun during the firefight outside the Security Pacific Bank, which was standard for the Riverside Sheriff's Office at the time.
CHP officer Doug Earnest bandaging wounded patrolman Bill Crowe.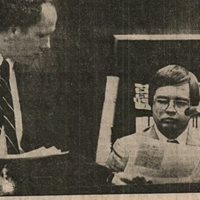 Hostage Gary Hakala testifying in court.
Police photograph the green van used in robbery for evidence.
Riverside deputy Andy Delgado.