This is an archival story that predates current editorial management.
This archival content was written, edited, and published prior to LAist's acquisition by its current owner, Southern California Public Radio ("SCPR"). Content, such as language choice and subject matter, in archival articles therefore may not align with SCPR's current editorial standards. To learn more about those standards and why we make this distinction, please click here.
Wreck Your Life
We need to hear from you.
Today, put a dollar value on the trustworthy reporting you rely on all year long. The local news you read here every day is crafted for you, but right now, we need your help to keep it going. In these uncertain times, your support is even more important. We can't hold those in power accountable and uplift voices from the community without your partnership. Thank you.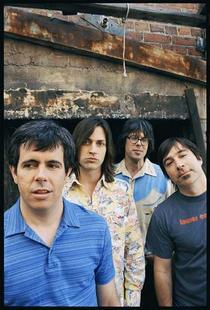 Things are picking up around town tonight with an interesting smattering of events in and around Downtown and Hollywood. Hope you're all ready for some fun, as tonight promises to be a little bit rowdy if you wander into certain establishments (see next).
Head to the Viper Room to catch Austin's alt-country boy wonders the Old 97's. Celebrating the release of their new album, Drag It Up, these Texans are known for their energetic performances, as well as for selling out venues. LAist recommends buying your tickets early to make sure you can get in. You can also arrive early for Happy Hour's half-price drinks, which runs from 4:00–8:00 PM.
If pop music is more your bag, check out International Pop Overthrow at Spaceland, featuring AM Radio, Jupiter Affect, The Dukes of Silver Lake, Telecast, Kristian Hoffman, Tea and The Condors. Doors open at 9:00 PM and tickets are $8.00.
For some frantic fun, check out local mavens of mayhem The Mae Shi at The Smell. Tonight is the CD release party for their new LP, Terrorbird, also featuring Wives, The Manifolds and Foot Village. Doors open at 9:00 PM and admission is $5.00.
At the Egyptian Theater, see a screening of Robert Altman's 1974 film California Split. The film, which is not available on video, is a "comically bittersweet patchwork quilt of interwoven lives in Las Vegas" featuring Elliot Gould, George Segal, Ann Prentiss, Gwen Welles and Jeff Goldblum. The show begins at 7:30 PM.
It's been many, many years since we saw this much snow in our mountains. Going up there right now isn't safe, but here are some places where you can enjoy the view and snap a pic.

April Valentine died at Centinela Hospital. Her daughter was born by emergency C-section. She'd gone into the pregnancy with a plan, knowing Black mothers like herself were at higher risk.

A look at years past when snows creeped into our citified neighborhoods, away from the mountains and foothills.

In the face of a drier future, that iconic piece of Americana is on its way out in Southern California.

Bob Gregory, 62, went missing the same day as Sands. His body was recovered near Mount Islip.