Stories like these are only possible with your help!
Your donation today keeps LAist independent, ready to meet the needs of our city, and paywall free. Thank you for your partnership, we can't do this without you.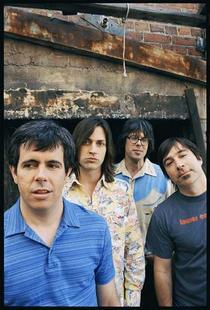 Things are picking up around town tonight with an interesting smattering of events in and around Downtown and Hollywood. Hope you're all ready for some fun, as tonight promises to be a little bit rowdy if you wander into certain establishments (see next).
Head to the Viper Room to catch Austin's alt-country boy wonders the Old 97's. Celebrating the release of their new album, Drag It Up, these Texans are known for their energetic performances, as well as for selling out venues. LAist recommends buying your tickets early to make sure you can get in. You can also arrive early for Happy Hour's half-price drinks, which runs from 4:00–8:00 PM.
If pop music is more your bag, check out International Pop Overthrow at Spaceland, featuring AM Radio, Jupiter Affect, The Dukes of Silver Lake, Telecast, Kristian Hoffman, Tea and The Condors. Doors open at 9:00 PM and tickets are $8.00.
For some frantic fun, check out local mavens of mayhem The Mae Shi at The Smell. Tonight is the CD release party for their new LP, Terrorbird, also featuring Wives, The Manifolds and Foot Village. Doors open at 9:00 PM and admission is $5.00.
At the Egyptian Theater, see a screening of Robert Altman's 1974 film California Split. The film, which is not available on video, is a "comically bittersweet patchwork quilt of interwoven lives in Las Vegas" featuring Elliot Gould, George Segal, Ann Prentiss, Gwen Welles and Jeff Goldblum. The show begins at 7:30 PM.