This is an archival story that predates current editorial management.
This archival content was written, edited, and published prior to LAist's acquisition by its current owner, Southern California Public Radio ("SCPR"). Content, such as language choice and subject matter, in archival articles therefore may not align with SCPR's current editorial standards. To learn more about those standards and why we make this distinction, please click here.
Workout Wednesday: Flag Football
Stories like these are only possible with your help!
You have the power to keep local news strong for the coming months. Your financial support today keeps our reporters ready to meet the needs of our city. Thank you for investing in your community.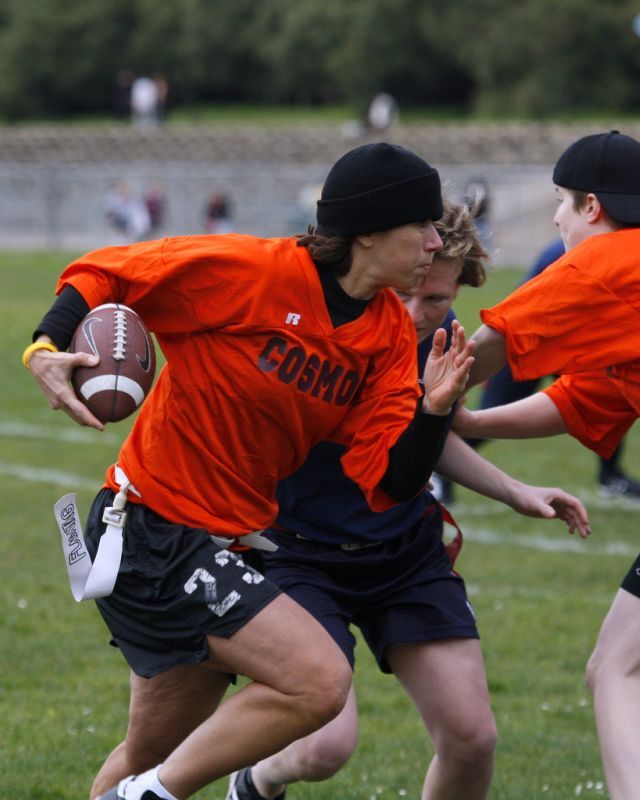 It's almost football season! Players are returning to camp, refusing to return to camp, and negotiating contracts as sports bars order extra supplies of wings and beer and hire hotter waitresses.
What can you do to celebrate this great American tradition and join in the festivities? Join a flag football team, of course, and get your own game started!
One of the biggest leagues in Southern California is Top Gun Flag Football. It's a 5-on-5 league, with a maximum of 12 players to a team and a minimum of four players each game. Players can form their own teams, or sign up as an individual and get put on a team.
Games are played in parks throughout the Valley and all the way down to San Diego.
And let there be no mistake about it - there may be no tackling, but these games are intense. There's yelling, there are fights, there are even spectators on the sidelines trash-talking other players. It's some serious suburban warfare.
Orientation for the fall season starts on September 27, and games go through December 4, followed by an inter-league tournament.
Overall Workout: Very good
Hobby-Developing Potential: High, especially if you like football
Next-Day Pain: Depends on your beer-to-workout ratio before the season started.
Cost: $725 Day/$750 Night Per Team
Photo by mikebaird via Flickr