This is an archival story that predates current editorial management.
This archival content was written, edited, and published prior to LAist's acquisition by its current owner, Southern California Public Radio ("SCPR"). Content, such as language choice and subject matter, in archival articles therefore may not align with SCPR's current editorial standards. To learn more about those standards and why we make this distinction, please click here.
When You Fight a Parking Ticket, You Are Fighting Lockheed Martin
Before you read more...
Dear reader, we're asking you to help us keep local news available for all. Your tax-deductible financial support keeps our stories free to read, instead of hidden behind paywalls. We believe when reliable local reporting is widely available, the entire community benefits. Thank you for investing in your neighborhood.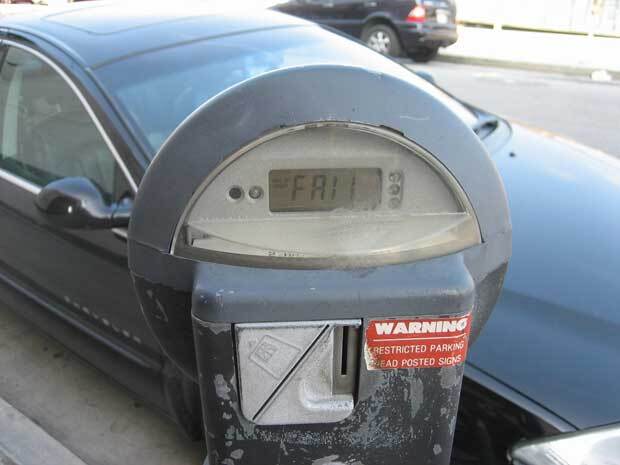 Here at LAist, we are all for government contracts. After all, It makes fiscal sense, especially with the ominous budget cuts on their way next week. From medical benefits to office supplies, vendors save the tax dollars. Period.
But there is another way vendors cost you money in the City of Los Angeles and that comes in the form of fighting a parking ticket.
Before we move on, you must know that the officer who writes your parking ticket is a city employee. The people who take care of citation management are employees of a third party. In this case, that would be Lockheed Martin, widely known for weapons manufacturing and uhhh... welfare management.
Keeping in mind that Lockheed Martin plays judge and jury to your parking ticket contestations (something very personal to you and your wallet), do they really represent the city? Fighting Parking ticket stories after the jump.
Here are some annoying stories of fighting tickets:
We Cashed Your Check, But You Have Failed to Pay
A ticket is issued and the offender accepts his parking error. He pays in mid-February, the check is finally cashed around March 23, and the city writes a letter on April 9th saying it was never paid. Yes, sometimes things overlap, but 17 days?
X-Ray Vision
Person parks in preferential parking district without a permit, gets ticketed. Finds that sign stating the need for a permit is covered in graffiti and under a burnt out street light. Takes picture, fights it. Loses on round one. Round two, fights again and loses on basis that no photo was provided (it was provided in round one) and that "it is the responsibility that you check every sign on the street."
Two City Employees as Witness
Person parks at FAILED meter. Unsure if this is legal or not, calls number on meter to report it and ask if it is legal or not. Traffic Officer comes by and says they can park there for one hour, so person goes to lunch knowing that two city employees said it was okay to park there legally (it is actually not legal). Person comes out to a parking ticket, but is confident they will win the fight with the employee ID number and name of the person in hand. Wrong. Letters coming back from the city said the ticket was valid because the meter never failed in the first place. Uhhh, the Traffic Officer was right there and saw it failing.
What's your story? Has Lockheed Martin represented the city in an equitable manner?