This is an archival story that predates current editorial management.
This archival content was written, edited, and published prior to LAist's acquisition by its current owner, Southern California Public Radio ("SCPR"). Content, such as language choice and subject matter, in archival articles therefore may not align with SCPR's current editorial standards. To learn more about those standards and why we make this distinction, please click here.
What I did on Vacation - San Francisco
Before you read more...
Dear reader, we're asking you to help us keep local news available for all. Your financial support keeps our stories free to read, instead of hidden behind paywalls. We believe when reliable local reporting is widely available, the entire community benefits. Thank you for investing in your neighborhood.
I don't care if the Golden Gate Bridge gets all of the attention. It's actually an orange vermillion anyways, as folk-rocker David Dondero reminds us. I have much love for the Oakland Bay Bridge, with its geometric patterns, sweeping lines and panoramic view of the city. By the way, they will be closing the bridge down for the long weekend, so beware.
Cyberspace has given me the virtual ability to drag the entire world down to my basement to make them look at my vacation slides, and I am going to take full advantage.
I spent last weekend in San Francisco, eating in as many restaurants and hitting as many museums as possible. Here are some of my photos, including a few that I couldn't cram into my overstuffed restaurant reports. Besides restaurants, and museums. I also am attracted to random moments of humor, beauty and surrealism.
So come on down to the basement. I'm making popcorn...
While we were waiting in line "C" for Southwest Airlines, I asked my friend what time it was, and Jai from Queer Eye and Nip/Tuck peeked out from behind her and answered me. We all gabbed away for the entire time, as we love gay men and gay men love us. We even ended up walking him to baggage claim and exchanging emails. I love him. Later, one of my friends asked, "Which one is he?" I answered, "The one everybody wants to date." Oh, and here's a plug... Debut single coming summer 07!
I also lucked out in the room-mate department.
I REALLY lucked out.
Union Square was a trip. But I had set my sights on spotting Frank Chu and his 12 Galaxies, so I was kind of disappointed. Maybe if I had ridden the BART more. Meanwhile, I had to settle for any other spiritual signs I could get.
I have been to the Edmonton Mall, which is pretty damn big, but Union Square's Westfield Shopping Center was the tallest mall I have ever seen. The escalator ride was downright dizzying.
Best Hall and Oates Award:
I love checking out the D-list celebs on restaurant walls. I was taken with these twins, not knowing that would be an Arbus-like theme for the week.
In case you didn't read the food reviews and missed them, here are the San Francisco Twins:
On Wednesdays, form 5pm to 10pm 111 Minna Gallery hosts Happy Hour club Quool. It is hidden in a little alleyway off 2nd between Howard and Mission). They had cartoons being projected, a house DJ, lots of good beer on tap, and a cool crowd. They also had the greatest dancer on earth there, inventing amazing dances that reminded me of 80s new wave singers and double-dutch jump-ropers. Unfortunately, it was too dark for me to get a proper Quicktime video. I also liked the art on the walls, especially these works by Kelly Tunstall.
There is no photography allowed in the YBCA, but I fell in love with this Joachim Schmid and actually had to buy the $60. book too. He exclusively uses "found" photographs in his work. To sort of speed up the process during a slow period, he sent out word that the chemicals used in photo processing made it too dangerous to keep old photos around, and they were going to start recycling photo paper. One portrait studio was wise enough to cut up the negatives first (but not wily enough to see through the scam). They used the same cutter, so all of the photos could be lined up almost perfectly with each other to make completed photos. A new art form was born. I love this boy with the whiskers. I stared at him forever.
I tried to Quicktime video these Union Square buskers ("Busk!" 3x in 1 week! Yeah), but when I shouted encouragement, "Go, Bearcat, go!" They started laughing so hard they had to stop playing.
I don't ever want to hear that "only in LA phrase" ever again after this guy carried his standard poodle into the cream puff shop. It is out-of-focus since I was on the DL, but I think it makes it look kind of impressionistic.
We toured MOMA, where photography is also not allowed, but I was so amused by this sculpture, which was just a big chunk of metal, being out of order. How is a sculpture out of order? (No, YOU'RE out of order! This whole MUSEUM is out of order!)
Then we found the coolest installation. You and I, Horizontal Once you walk in, you will never want to walk out again. People were sitting up against the back wall just tripping. A series of light rays projected through a haze to make a seemingly tangible, 3-dimensional space. From outside it looked like a cone, but once you stuck your head in, you disappeared and others disappeared to you. It was like the fifth dimension. It was like being in a WHO video. We had to encourage newcomers to join us in the tunnel, like cult recruiters. At one point a little boy ran straight for the center and his mother screamed with real panic, "Kyle! Come Back!!!!" We laughed and all started calling for Kyle. The kid got the joke, and whispered in a creepy voice, "Kyle isn't here anymore." I once again had to break the camera rule, although it just doesn't convey the real experience. Sometimes it would change and have steps and corners in it. I want one for my house.
At the Ferry Building, it's all about perspective
San Francisco's newest museum, the De Young was pretty impressive, and allows photography of their permanent collections.
Cornelia Parker Anti-Mass is created from the charred remains of a Southern Baptist Church which fell victim to arson. The physical mass still remains, but it is that which is missing that makes this piece so powerful.
Edmund Charles Tarbell, The blue Veil
George Herms The Meat Market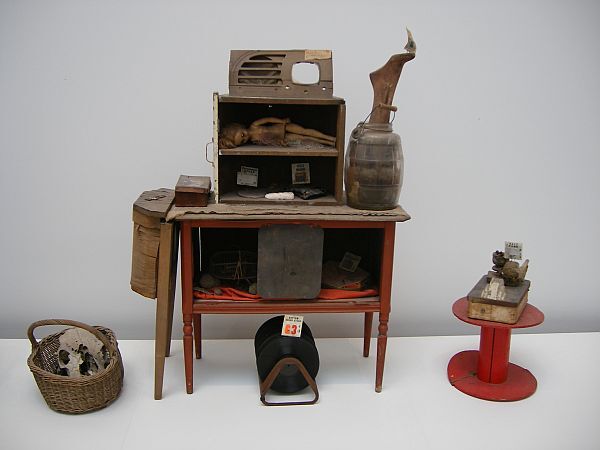 Sometimes people rag on LAist for taking pictures out of our car windows for the Neighborhood Project. But I have been using it as kind of an instantaneous luck-of-the-draw method for some time, and I often love the photos I get, like these:
When I saw these streetcars, I realized the problem with LA's mass transit system. Forget about hubs and Central Business Districts. WE are missing a sense of FUN! People line up to go on the monorail at Disneyland that doesn't even go anywhere! Double-decker buses are always full. Even the sound of our public transportation is horrible. The cablecars go "ding ding" while our sad buses moan. Instead of our drab, smoke spewing, screeching, rolling billboards, we need some brightly colored monorails that play calliope music, or those ducks that can go in and out of the water. Bring me a giant Chitty Chitty Bang Bang and I will never fucking drive again!