What Hawaii's Earthquake Reminds Us To Do
Stories like these are only possible with your help!
Your donation today keeps LAist independent, ready to meet the needs of our city, and paywall free. Thank you for your partnership, we can't do this without you.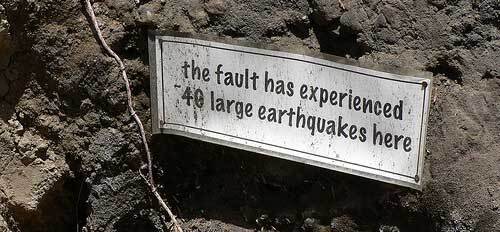 There was a 6.6 earthquake yesterday in Hawaii. It gets us thinking...
1. Buy water for your home.
2. Do you have at least a half tank of gas in your car at all times? It would kinda suck if you were nearing empty when the big one struck.
3. Buy water for your car.
4. We would hate to be stuck at the office when a major earthquake that doesn't give us the opportunity to get home for a day or two happens. We hope you have an emergency pair of comfy shoes and a change of clothes in case you are stuck at the office. Oh yeah, don't forget to pack deodorant.
5. Buy water for your office
6. Are you crazy? Brita filters do not count. Bottles of water should be replaced every six months.
7. Got an extra $200? Cash it out in twenties and keep in a safe place. If power is knocked out for a few days or more, plastic will get you only as far as Tara Reid.
8. Water.
9. Do you know how to turn off the gas at your home or apartment? Jill Davis of Jill's Note Book in Pasadena knows how.
10. Another free 7-course session of CERT begins today. Take advantage and join the thousands of LA residents who are part of the Community Emergency Response Team. And don't worry, you are not obligated to become part of the team if you do it. You are allowed to take the knowledge and skills and run.