This is an archival story that predates current editorial management.
This archival content was written, edited, and published prior to LAist's acquisition by its current owner, Southern California Public Radio ("SCPR"). Content, such as language choice and subject matter, in archival articles therefore may not align with SCPR's current editorial standards. To learn more about those standards and why we make this distinction, please click here.
This Week's Most Commented & Recommended
Before you read this story...
Dear reader, we're asking for your help to keep local reporting available for all. Your financial support keeps stories like this one free to read, instead of hidden behind paywalls. We believe when reliable local reporting is widely available, the entire community benefits. Thank you for investing in your neighborhood.
When you read something you like on LAist, we love it when you hit the "recommend" button, and we love it even more if you put your two cents' worth in the comments. Getting a dialog going with our readers and making sure we're giving you content you can use are top priorities for us.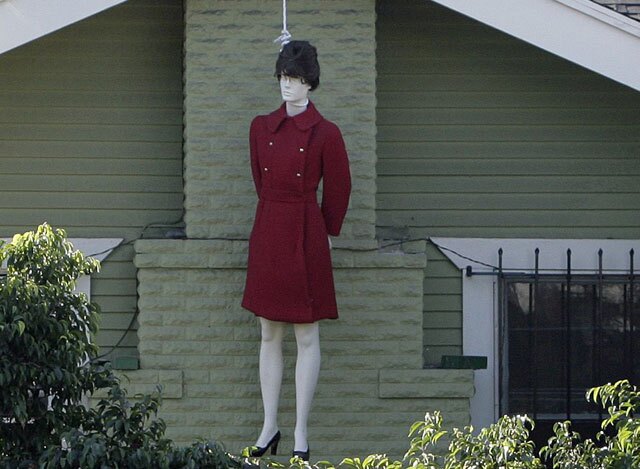 Photo by Ric Francis/AP
So here are this week's top posts, as endorsed by you via the recommend feature, or as indicated by the level of talk going on in the comments:
Most Commented
Dodgers Player Jeff Kent Donates $15K to Support Prop 8 So does doing this make Kent a bigot? Or was he already a jerk to begin with? Does any of this affect how we feel about him as a Dodger? Is this news? You had a lot to say about it!
SaMo Police Now Ticketing Exercise Enthusiasts When working out becomes a crime: "If assigning large numbers of officers to patrol bicycle rides wasn't enough, the Santa Monica Police Department is now making sure people don't exercise in the wrong spot. If you do, you could end up with a $158 citation and possibly be put in the back of a squad car as online music company exec James Birch was"
Obama Effigy Found in Redondo Beach Oh, it was a fine week for exterior decorations passed off as Halloween-related, but with undeniable political meaning. A Redondo Beach resident proudly displayed her anti-Barack Obama, leaving us to wonder if she didn't learn anything from the much-discussed West Hollywood Sarah Palin effigy? Our advice would be to ignore her altogether if you aren't a fan of hers, and don't draw any attention to Palin by creating a controversial display. But are these just two cases of over-doing both the spirit of Halloween and the reliance on citing "free speech" as an excuse to be hateful?
Most Recommended
Red Wings Burn Kings in Shootout "The Los Angeles Kings were hanging tough against the 2008 Stanley Cup Champion Detroit Red Wings on Monday night, and it looked like they might steal a victory as the game entered the final minutes. But it wasn't to be..." Another amazing Kings photo gallery got the big thumbs up, despite the Kings losing!
Anony Blogger Seduces Celeb Online Through Eastside/Westside Bar Talk A red-headed Westsider with a penchant for celebs-as-dates uses her blog, Twitter, and MySpace to tell the sometimes scandalous tales of her dating life as it plays out from location to location all over the city.
The Creepiest Scientology Encounter Caught on Video A videographer was filming on the sidewalk of L Ron Hubbard Way near the large East Hollywood Scientology building when he was all of the sudden surrounded by three alleged Scientologists with cameras who kept on cornering him. Seriously, this video is creepy.