This is an archival story that predates current editorial management.
This archival content was written, edited, and published prior to LAist's acquisition by its current owner, Southern California Public Radio ("SCPR"). Content, such as language choice and subject matter, in archival articles therefore may not align with SCPR's current editorial standards. To learn more about those standards and why we make this distinction, please click here.
This Week in Theatre: Love, Dracula and the Schwartzes
Before you read more...
Dear reader, we're asking you to help us keep local news available for all. Your financial support keeps our stories free to read, instead of hidden behind paywalls. We believe when reliable local reporting is widely available, the entire community benefits. Thank you for investing in your neighborhood.
There's something for everyone in LA theatre scene this week: love, families and a little blood sucking...and if you don't like paying for your tickets but want to see what LA theatre is all about, then check out the LA Stage Alliance's Free Night of Theatre 2007.
The Last Schwartz
In this poignant comedy, the Schwartz siblings have gathered in their childhood family home for the one-year anniversary of their father's death. Ya gotta love those family gatherings!
Zephyr Theatre, 7456 Melrose Ave. Los Angeles. (323) 960-7789. Tickets are $25-30. Opens Saturday at 8 pm. Runs Thursdays to Saturdays at 8 pm and Sundays at 2 and 7 pm until Dec. 9.
The Life of Galileo
L.A. Theatre Works' presents this political satire on the life of the 17th century astronomer starring Stacy Keach and. Adapted by David Hare from the original work of Bertolt Brecht, the play will be taped for L.A. Theatre Works' "The Play's the Thing" weekly show broadcast NPR.

Skirball Cultural Center, 2701 N. Sepulveda Blvd, Los Angeles. (310) 827-0889. Tickets are $20-$47. Runs tonight and Friday at 8, Saturday at 3 pm and Sunday at 4 pm. This weekend only.
The Jolly Roger
The name of this play is "The Jolly Roger." It's the name of a boat. It's also the name of a pirate insignia. It's also a British euphemism for sex. All three definitions are pertinent here, but basically it's about these two SF lawyers in love with the same British woman. Then throw in adventure involving a a dirty cop, a drug lord and a huge freaking diamond.
The MET Theatre, down stairs in the Great Scott Theatre, 1089 N. Oxford Ave., Hollywood. (323) 957-1152. Tickets are $10-$15. Opens Saturday at 8 pm and runs Thursdays to Saturdays at 8 until Nov. 17.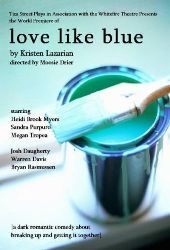 Love Like Blue
This is a dark romantic comedy about three couples ending their relationships and facing the beginning of new relationships with different people a year later. "With humor and tenderness, Love Like Blue explores the circularity of life and love, as well as our ultimate interconnectedness."

Whitefire Theatre. 13500 Ventura Blvd., Sherman Oaks. (818) 687-8559. Tickets are $20. Runs Wednesdays and Thursdays at 8 pm until Nov. 15.
b4 I Wake
This is a rock'n'roll, "mixed-media retelling" of Bram Stoker's Dracula. But check out its MySpace page to see if this is the production for you. (NSFW).

Theatre of Note. 1517 N. Cahuenga, Hollywood. (323) 856-8611. Tickets are $10. Previews this weekend. Opens tomorrow at 8 pm. Runs Fridays and Saturdays at 11 pm and Sundays at 7 pm until Nov. 17. A special Halloween performance at 8 pm.