The Price of Gas Takes its Toll
Stories like these are only possible with your help!
Your donation today keeps LAist independent, ready to meet the needs of our city, and paywall free. Thank you for your partnership, we can't do this without you.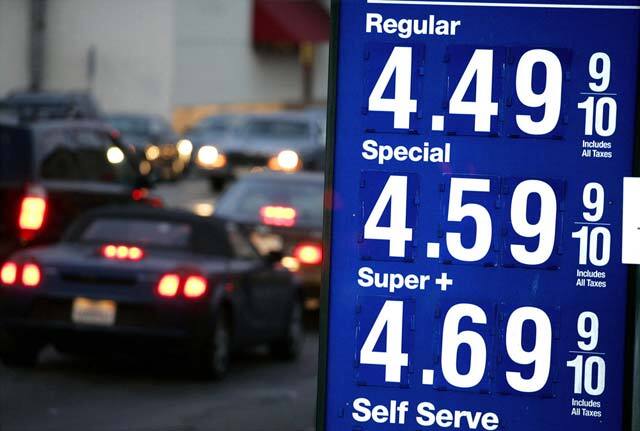 Photo taken on 6/6/08 in Santa Monica | © Copyright 2008 by Jonathan Alcorn (Sundogg) via LAist Featured Photos pool on Flickr
When it comes to the cost of a gallon of gas these days, it certainly doesn't seem to be the case that "it can't get any worse." We grumbled when it got to $3, winced when it hit $3.40, cringed when it hovered at the $4 mark, and now we're seeing prices in the $4.40 range at pumps all over SoCal. And, in true trend-setting fashion, our high gas prices have finally inspired the rest of the country to catch up; the national average is now over $4 a gallon.
The high price of fuel needed to get around this sprawling city is taking a toll on the quality of life for many individuals, running the gamut from curbing spending on recreation and luxuries to having to sacrifice some basics. For some, what's being shelled out of their pockets now might be affecting the rest of their lives, as savings dwindle and a comfortable retirement seems out of reach.
Although many folks are noticing less traffic on the whole, day after day our freeways and surface-street arteries are clogged with cars paying the price not only in the gas tank but also in mental health to hurry up and go somewhere only to get stuck in traffic. Of course, if you think you might be headed for an in-vehicle breakdown (mental or otherwise) anytime soon, make sure your cellphone is set up to dial out that vital SOS cry of help hands-free! Of course, you could always ride the Metro (just be sure to brush up on your manners), or get a scooter... but it's so darn hard to text message when you're steering one of those things...