Surprise, Surprise: Trump Doesn't Fire Miss USA
Stories like these are only possible with your help!
You have the power to keep local news strong for the coming months. Your financial support today keeps our reporters ready to meet the needs of our city. Thank you for investing in your community.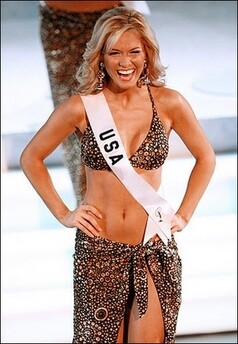 Donald Trump gave the 21-year-old blonde and busty Miss USA a second chance. How big of him.
Kentucky's Tara Conner came thisclose to getting dethroned amid reports of her underage partying ways in the Big Apple. (She just turned 21 on Monday.) But after what was probably a heartfelt meeting this morning, the old Trumpster decided to give her a second chance. 'Cause Trump's like God in this case. He owns -- literally, with NBC -- the Miss Universe organization.
"In a tear-choked voice, Conner said, "In no way did I think it would be possible for a second chance to be given to me." Turning to Trump, she said, "You'll never know what this means to me, and I swear I will not let you down."

Trump said Conner would be entering rehab."


How much more Hollywood of an ending can you get? Too bad for Miss California, though. Had Miss USA gotten the boot, LA native and first runner-up
Tamiko Nash
would have captured the
crown
tiara.
Associated Press photo