Serious Farking Cash Being Invested in Blogs
LAist relies on your reader support, not paywalls.
Freely accessible local news is vital. Please power our reporters and help keep us independent with a donation today.
Business 2.0 seems to confuse being successful and getting major ad dollars on a blog with becoming mainstream. Although we can see their 1.0 thinking, the gloriously lo-fi NSFW Fark turning mainstream? Not farking likely, fellas.
Boing Boing, a four-person operation that bills itself as a directory of wonderful things, is on track to gross an estimated $1 million in ad revenue this year. The digital-media news site PaidContent.org, headquartered in the second bedroom of a Santa Monica apartment, is set to post even more than that. And Fark.com, a site packed with sophomoric humor run by a lone guy in Lexington, Ky., is on pace to become a multimillion-dollar property. In short, some of the most popular blogs, long the bane of the mainstream media, are themselves becoming mainstream. - Business 2.0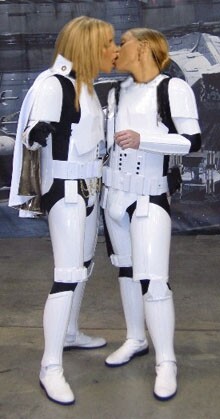 Later they discussed how Fark is about to enter into a six-figure agreement with Maxim.
Fark is incredibly cost-efficient: Almost all of its content is generated by its readers, and aside from [Fark Founder Drew] Curtis it has just two contract employees, both tech guys... The beautiful part is that virtually none of the content (pictures, videos, etc.) is hosted on Fark, which simply links to the goodies. This means that, despite its huge traffic, Fark doesn't incur the crushing bandwidth fees that eat into profit at sites like video trove YouTube... [Maxim's] Dennis approached Curtis because Fark's audience demographic matches Maxim's. Curtis won't disclose his current revenue but insists that he can soon log monthly ad sales of $600,000 to $800,000. Battelle expects Fark to become the first indie blog to earn a million dollars a year in profit. "Fark's going to get there," he says.


The thing is, Maxim should advertise on Fark, not because Fark has suddenly changed or even eventually changed. Fark has always been Fark. Now they're just getting paid. If anything the mainstream has been Farked. If anything the mainstream is embracing blogs and epecially blogs that provide tons of daily content that monthly magazines could never match. By the time a Maxim or a Stuff or an FHM can find that wacky picture of that snake who split in half after trying to eat an alligator, it's already been around the web countless times and photoshopped into scores of funny alternatives.
Fark and the others deserve their success and the ad dollars because they've entertained and informed for the other 29 days of the month that the magazines are trying to catch up.