Same Number of Commuters, Different Methods
LAist relies on your reader support.
Your tax-deductible gift today powers our reporters and keeps us independent. We rely on you, our reader, not paywalls to stay funded because we believe important news and information should be freely accessible to all.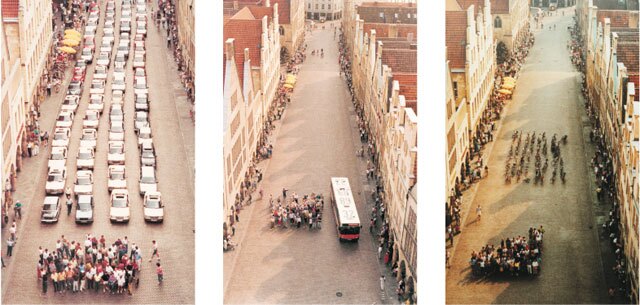 Amount of space required to transport the same number of passengers by car, bus or bicycle.
This poster, from the City of Munster in Germany, has been making its way around the internet this past week. Now, either an internet star or slut, it carries a simple message about congestion, urban planning and people: cars are great, but can really suck in certain situations and people will just deal with it anyway.
We often hear in the comments sections of transit posts about Wilshire Blvd. that the "billion" buses on the street are the problem. Just imagine all those bus riders in their car behind, next, in front and all around you. In fact, that could 30,000 extra cars.
Or just imagine if there were park-and-ride lots along Wilshire and the majority of people took buses. Then the only traffic the bus would sit through was of their own kind.
And then imagine if money actually existed to fund the Purple Line 'subway to the sea.'
Image from the City of Munster, Germany Planning Office (h/t MetroRiderLA)