Stories like these are only possible with your help!
Your donation today keeps LAist independent, ready to meet the needs of our city, and paywall free. Thank you for your partnership, we can't do this without you.
It's not strictly L.A., but it does involve navigating through traffic on the 101: Taking a day trip to the San Diego Zoo.
[Editor's Note: We hope you enjoy this guest post from Gothamist's Executive Editor, Jen Chung, who kindly put together this photo post for LAist readers while she was in town. Jen:I was dopey enough not to include my captions (bad Jen!) but they are up now!]
There are a number of animals to visit at the zoo. Will it be pandas? Or koalas? Perhaps a monkey?
The polar bears are great fun to see, because what are polar bears doing in Southern California? Here, one eats a yam.
Another bear was quite the showman, bouncing a ball....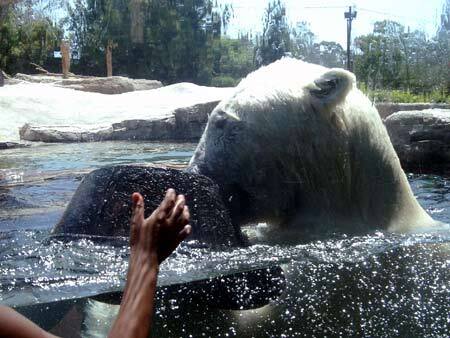 ...and later finding a bucket, proudly showing the zoo's visitors.
The giraffes happily roam, in search of some leaves to eat.
Koalas happily inhabit interior spaces, lounging on eucalyptus branches, having a splendid day.
And the best part of going to the San Diego Zoo would be the pandas, naturally. [We recommend that you go to the zoo early and that you hit the panda exhibit first, because by noon, the line gets very long.]
The San Diego Zoo has various animal cams that let you visit them from your desk. Check out the polar bear cam, elephant cam, ape cam and panda cam.