This is an archival story that predates current editorial management.
This archival content was written, edited, and published prior to LAist's acquisition by its current owner, Southern California Public Radio ("SCPR"). Content, such as language choice and subject matter, in archival articles therefore may not align with SCPR's current editorial standards. To learn more about those standards and why we make this distinction, please click here.
Road Trip: San Diego Zoo
Before you read more...
Dear reader, we're asking you to help us keep local news available for all. Your financial support keeps our stories free to read, instead of hidden behind paywalls. We believe when reliable local reporting is widely available, the entire community benefits. Thank you for investing in your neighborhood.
It's not strictly L.A., but it does involve navigating through traffic on the 101: Taking a day trip to the San Diego Zoo.
[Editor's Note: We hope you enjoy this guest post from Gothamist's Executive Editor, Jen Chung, who kindly put together this photo post for LAist readers while she was in town. Jen:I was dopey enough not to include my captions (bad Jen!) but they are up now!]
There are a number of animals to visit at the zoo. Will it be pandas? Or koalas? Perhaps a monkey?
The polar bears are great fun to see, because what are polar bears doing in Southern California? Here, one eats a yam.
Another bear was quite the showman, bouncing a ball....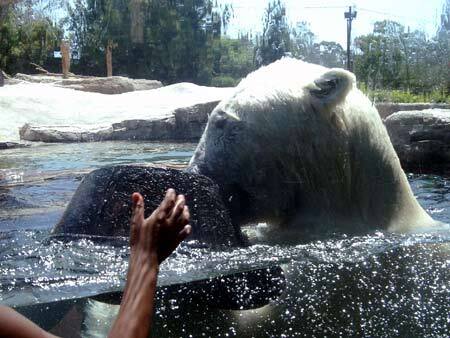 ...and later finding a bucket, proudly showing the zoo's visitors.
The giraffes happily roam, in search of some leaves to eat.
Koalas happily inhabit interior spaces, lounging on eucalyptus branches, having a splendid day.
And the best part of going to the San Diego Zoo would be the pandas, naturally. [We recommend that you go to the zoo early and that you hit the panda exhibit first, because by noon, the line gets very long.]
The San Diego Zoo has various animal cams that let you visit them from your desk. Check out the polar bear cam, elephant cam, ape cam and panda cam.