Reagan Library: They Don't Stop Democrats at the Door
Stories like these are only possible with your help!
You have the power to keep local news strong for the coming months. Your financial support today keeps our reporters ready to meet the needs of our city. Thank you for investing in your community.
My folks are Republicans. I am not. On a recent visit from the East Coast, they wanted to go to the Ronald Reagan Presidential Library and Museum. I kinda didn't. But since they were only in town for a few days -- to see me and I wanted to spend time with them -- I put our political differences aside and drove them out to Simi Valley (via the 118 -- the Ronald Regan Freeway).
I had a better time than I expected. Seeing a president's propaganda history preserved was pretty cool. (They really gloss over Iran-Contra and his House Un-American Activities Committee participation.) But the grounds were cool, and the library houses a retired Air Force One and Marine One in a hangar. Visitors get to go inside Air Force One, which was the highlight of the day.
If you're interested in visiting, head to:
40 Presidential Drive
Simi Valley
800-410-8354
Regular admission is $12 and it's open 10 a.m. until 5 p.m. every day of the week, except Thanksgiving Day, Christmas Day, and New Year's Day.
Along the way, I captured a few other photos for your enjoyment:
Old timey kitchen that replicates Reagan's childhood home in Illinois. Note no microwave.
Before Ronnie was governor of California and president of the United States, he was an "actor." Can you imagine TV today in black-and-white and no high-def?
Ronald was a die hard military man -- on the screen and off. He enlisted as a private in the Army Reserve in 1935, served in World War II and was honorably discharged in 1945 with the rank of captain.
The poster boy for the Republican party was once a Democrat.
A new era begins.
Political propaganda.
Air Force One was pretty cool. Visitors get to walk through the plane, with careful supervision.
Who took a limo like this to their prom?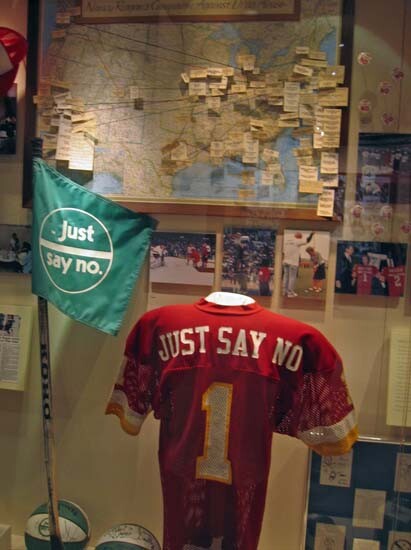 How many of you were subjected to Nancy and Ronnie's "Just Say No" campaign. Did it work? Ok, say it with me now: Just say no! Just say no!
A lot of the furniture was from the original Oval Office.
"General Secretary Gorbachev, if you seek peace, if you seek prosperity for the Soviet Union and Eastern Europe, if you seek liberalization: Come here to this gate! Mr. Gorbachev, open this gate! Mr. Gorbachev, tear down this wall!" - Ronald Reagan, June 12, 1987
Photos by Christine N. Ziemba