'Subway to the Sea' Sneak Peak
Stories like these are only possible with your help!
You have the power to keep local news strong for the coming months. Your financial support today keeps our reporters ready to meet the needs of our city. Thank you for investing in your community.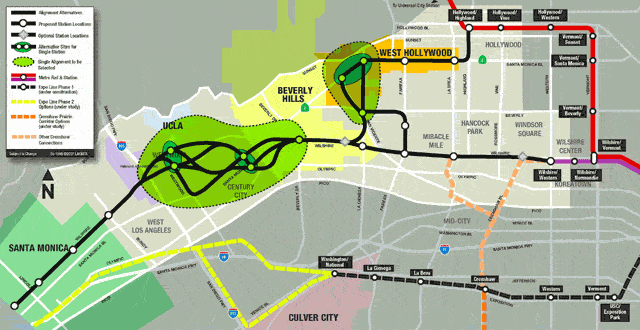 As of last May, these were the 4 remaining rail options (View Larger Image) | Provided by Metro
Here's one of the maps that will be seen at the upcoming Westside Extension meetings that Metro will be holding in September. Metro won't say what routes/alternatives have made the cut, but we do know this: the above map shows all four remaining subway possibilities from last May and all four might remain as possibilities.
As for which ones are staying put as Metro's recommendation and which ones got axed, we won't know until September (or maybe the day before the first meeting). "Some or all of them will continue forward," explained Jody Litvak of Metro. "It will be four or less."
Some of the freshest news about the project is coming via their Facebook page, a first for Metro in social networking.