Man Who Hit Deputy with Car Killed by Police in Studio City
Stories like these are only possible with your help!
Your donation today keeps LAist independent, ready to meet the needs of our city, and paywall free. Thank you for your partnership, we can't do this without you.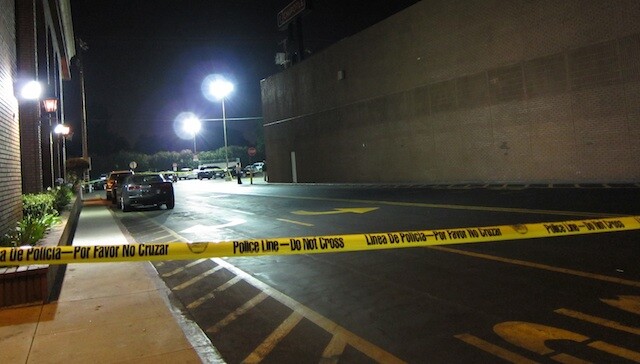 Looking into the parking lot from Ventura Boulevard as the scene began to clear | Photo by Zach Behrens/LAist
A group of local police and federal agents gathered in a Studio City parking lot Thursday evening were involved in a shooting that left one man dead and another arrested. A multi-jurisdiction task force made up of LAPD officers, L.A. County Sheriff's Deputies and agents from the Drug Enforcement Administration were conducting a warrant service debriefing around 9:30 p.m. in a parking lot off Ventura Boulevard when they noticed a man casing the area, possibly to break into cars. One of those cars was reportedly owned by a task force member (unconfirmed reports suggest the officers were not in uniform or driving official vehicles).
A task force member approached the man, who became uncooperative, prompting a struggle. A sheriff's deputy who came over in aid drew his gun and ordered the suspect to the ground.
But then came a surprise. "A white sedan, driven by a second suspect, sped toward the group, hitting the deputy," explained a Sheriff's Department report. "The deputy was thrown into the air, landed on the hood, hit the windshield, and was thrown back onto the ground. The deputy and a Drug Enforcement Administration agent, fearing for their lives, fired their duty weapons at the suspect vehicle. The car accelerated a short distance through the parking lot, crashing into several parked cars."
The driver was pronounced dead at the scene and the injured deputy was taken to the hospital and released after receiving treatment for bruising and abrasions.
At this time, it is unknown if the suspects are connected to each or not, or if there is any connection to the warrants that were served earlier in the evening.
The incident took place behind Chipotle at Ventura and Vantage.