Bike to Work Day Photo Essay
Stories like these are only possible with your help!
Your donation today keeps LAist independent, ready to meet the needs of our city, and paywall free. Thank you for your partnership, we can't do this without you.
It is Bike to Work day and we hope you had the chance to take part. If not, every day is a bike to work day -- there's just no complimentary public transit.
If anyone wants to include their bike to work photos, join and add them to the LAist Flickr Group.
Photos after the jump...
It's 7:15 a.m. and we're at
Bike to Work Day pit stop at the Orange Line Valley College station (Fulton/Burbank). She was the only member of the LA City Council to host one of the
. Unfortunately, she did not ride her bike like she did last year. Also, the staff was extremely excited over the three types of cream cheese they offered to the public.
This guy who was on his way to the Bike Rally at Hollywood/Western took his
from West Hills
Here we are at the Hollywood/Western Red Line Station/Pit Stop/starting point for the
sponsored bike rally/ride to City Hall.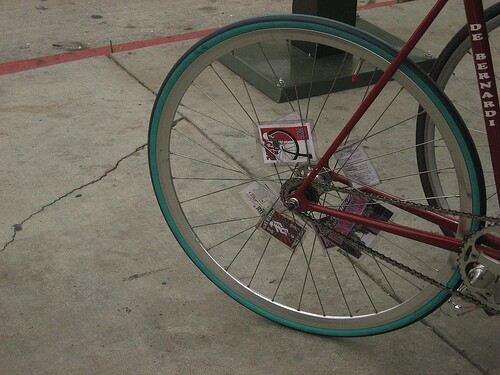 Yes! Pin Wheel Helmet!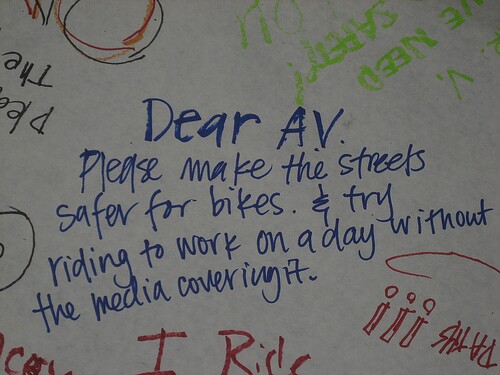 These were notes signed on a large petition that was later given to Deputy Mayor Larry Frank
The bike rally goes down Sunset Blvd. towards Hollywood.
Ahhh, look at those wonderfully cheap gas prices.
These were the most in shape LAPD officers ever. They also loved doing rear wheel skid stops.
There's something about tunnel riding. It's a great feeling when you are in there with hundreds of other cyclists.
Almost there!
Hey! That guy in the foreground is
blogdowntown's Eric Richardson
!
Victory!
This is Doug Failing, the top guy for Caltrans in District 7 (which includes Los Angeles). He is a good partner for cyclists as he is more committed to including cyclists, public transit and pedestrians in all Caltrans projects.
This is Deputy Mayor Larry Frank. He lives in the Venice area and has committed to riding his bike to work at least one day this year. Who's up for escorting him?
We forgot this guy's name. All we remembered was that he was there in place of the Mayor's Transportation Deputy, Jaime de la Vega. Gee, we wonder why. Oh yeah,
he drives a hummer and no one likes him
.
Afterwards, many cyclists could be found at
in Chinatown for some 11 a.m. beer.
All photos by Zach Behrens/LAist.com