This is an archival story that predates current editorial management.
This archival content was written, edited, and published prior to LAist's acquisition by its current owner, Southern California Public Radio ("SCPR"). Content, such as language choice and subject matter, in archival articles therefore may not align with SCPR's current editorial standards. To learn more about those standards and why we make this distinction, please click here.
Bike to Work Day Photo Essay
Support your source for local news!
The local news you read here every day is crafted for you, but right now, we need your help to keep it going. In these uncertain times, your support is even more important. Today, put a dollar value on the trustworthy reporting you rely on all year long. We can't hold those in power accountable and uplift voices from the community without your partnership. Thank you.
It is Bike to Work day and we hope you had the chance to take part. If not, every day is a bike to work day -- there's just no complimentary public transit.
If anyone wants to include their bike to work photos, join and add them to the LAist Flickr Group.
Photos after the jump...
It's 7:15 a.m. and we're at
Bike to Work Day pit stop at the Orange Line Valley College station (Fulton/Burbank). She was the only member of the LA City Council to host one of the
. Unfortunately, she did not ride her bike like she did last year. Also, the staff was extremely excited over the three types of cream cheese they offered to the public.
This guy who was on his way to the Bike Rally at Hollywood/Western took his
from West Hills
Here we are at the Hollywood/Western Red Line Station/Pit Stop/starting point for the
sponsored bike rally/ride to City Hall.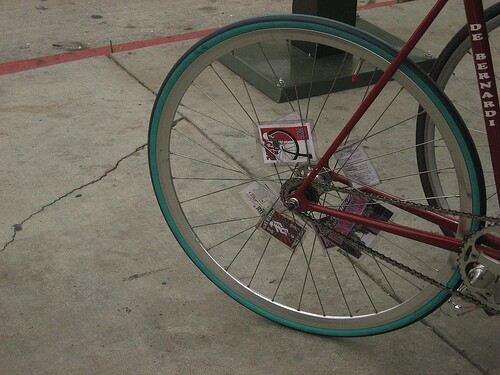 Yes! Pin Wheel Helmet!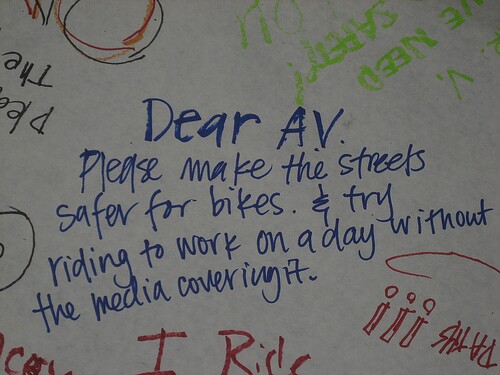 These were notes signed on a large petition that was later given to Deputy Mayor Larry Frank
The bike rally goes down Sunset Blvd. towards Hollywood.
Ahhh, look at those wonderfully cheap gas prices.
These were the most in shape LAPD officers ever. They also loved doing rear wheel skid stops.
There's something about tunnel riding. It's a great feeling when you are in there with hundreds of other cyclists.
Almost there!
Hey! That guy in the foreground is
blogdowntown's Eric Richardson
!
Victory!
This is Doug Failing, the top guy for Caltrans in District 7 (which includes Los Angeles). He is a good partner for cyclists as he is more committed to including cyclists, public transit and pedestrians in all Caltrans projects.
This is Deputy Mayor Larry Frank. He lives in the Venice area and has committed to riding his bike to work at least one day this year. Who's up for escorting him?
We forgot this guy's name. All we remembered was that he was there in place of the Mayor's Transportation Deputy, Jaime de la Vega. Gee, we wonder why. Oh yeah,
he drives a hummer and no one likes him
.
Afterwards, many cyclists could be found at
in Chinatown for some 11 a.m. beer.
All photos by Zach Behrens/LAist.com
Cruise off the highway and hit locally-known spots for some tasty bites.

Fentanyl and other drugs fuel record deaths among people experiencing homelessness in L.A. County. From 2019 to 2021, deaths jumped 70% to more than 2,200 in a single year.

This fungi isn't a "fun guy." Here's what to do if you spot or suspect mold in your home.

Donald Trump was a fading TV presence when the WGA strike put a dent in network schedules.

Edward Bronstein died in March 2020 while officers were forcibly taking a blood sample after his detention.

A hike can be a beautiful backdrop as you build your connection with someone.