This is an archival story that predates current editorial management.
This archival content was written, edited, and published prior to LAist's acquisition by its current owner, Southern California Public Radio ("SCPR"). Content, such as language choice and subject matter, in archival articles therefore may not align with SCPR's current editorial standards. To learn more about those standards and why we make this distinction, please click here.
Photo Essay: Tour of California -- Stage 7, Pasadena
Our June member drive is live: protect this resource!
Right now, we need your help during our short June member drive to keep the local news you read here every day going. This has been a challenging year, but with your help, we can get one step closer to closing our budget gap. Today, put a dollar value on the trustworthy reporting you rely on all year long. We can't hold those in power accountable and uplift voices from the community without your partnership.
CSC's Juan José Haedo and High Road's Mark Cavendish stretch for position. Cavendish took 6th and Haedo 7th. | Photo by Matt Cohen
San Francisco based photographer Matt Cohen reports from yesterday's Tour of California with photos and explanations of what happened:
On its seventh and final stage yesterday at the 2008 AMGEN Tour of California, riders raced from Santa Clarita to Pasadena, often in very heavy rain. The 93-mile Stage 7 was the Tour's most exciting, featuring a furious battle to the finish line between Team High Road's George Hincapie and Rory Sutherland of HealthNet. Former U.S. champion Hincapie had a bit more in the tank, besting Sutherland by a few lengths, with Team CSC's Jason McCartney took third on the day.
Safely ensconced inside a bubble created by his Astana teammates after building a 49 second lead in the previous stages, Santa Rosa, CA native Levi Lepheimer cruised to his second consecutive Amgen Tour of California victory. Slipstream-Chipotle filled out the rest of the overall podium with Brit David Millar taking second, with American Christian Vandeveld third. The powerhouse Slipstream-Chipotle also won the team competition.
Slipstream's Danny Pate assumes leadership of the breakaway on Soledad Canyon Road. | Photo by Matt Cohen
The breakaway rides Soledad Canyon as the rain begins to fall. | Photo by Matt Cohen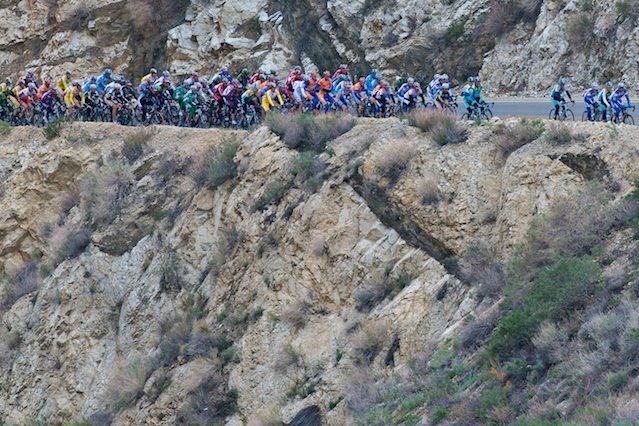 The peloton climbs through rocky Soledad Canyon Road. | Photo by Matt Cohen
Soledad Canyon stretches out the peloton. | Photo by Matt Cohen
Quickstep and Astana lead the peloton early in Stage 7 | Photo by Matt Cohen
Bouygues Telecom rider Dimitri Champion stays hydrated the all-natural way. | Photo by Matt Cohen
The Peloton cuts through a downpour in shadow of the Rose Bowl. | Photo by Matt Cohen
George Hincapie of Team High Road caps an exciting battle with HealthNet's Rory Sutherland and CSC's Jason McCartney. | Photo by
Toyota-United rider Dominique Rollin won the green jersey for Best Sprinter. He decided he had enough roses to give a couple to the Rock Racing girls. | Photo by Matt Cohen
2008 Amgen Tour of California winner Levi Leipheimer soaks runner up David Millar with champagne | Photo by Matt Cohen
More of Cohen's photos from the 7-day race can be found here at his flickr set.
Previously on LAist
-- Photo Essay: Tour of California -- Stage 6, Santa Clarita
-- AMGEN Tour of California finishes in Pasadena on Sunday
Cruise off the highway and hit locally-known spots for some tasty bites.

Fentanyl and other drugs fuel record deaths among people experiencing homelessness in L.A. County. From 2019 to 2021, deaths jumped 70% to more than 2,200 in a single year.

This fungi isn't a "fun guy." Here's what to do if you spot or suspect mold in your home.

Donald Trump was a fading TV presence when the WGA strike put a dent in network schedules.

Edward Bronstein died in March 2020 while officers were forcibly taking a blood sample after his detention.

A hike can be a beautiful backdrop as you build your connection with someone.