Photo Essay: LACMA Party's Best Costumes
Stories like these are only possible with your help!
You have the power to keep local news strong for the coming months. Your financial support today keeps our reporters ready to meet the needs of our city. Thank you for investing in your community.
I guess if I were the Lord and Savior I'd appear a little smug too. I have already written up my impressions of the LACMA Halloween event. Now for the best of the best costumes! Also after the jump is my personal prize for nakedest costume.
Safe for work!
We start off with a fantastic Amy Winehouse
I would have awarded the prize to this guy, because he is not only Kim Jong-Il, but Kim Jong Il from Team America.
Our friend Alicia, who almost aced the contest with her Disco Ball. She MADE the ball and hand-set every one of those mirrors!
Posh and Beck
How surreal can things get without Magritte?
They actually had the entire Royal Tenenbaum family, but I couldn't catch them all together. Gwyn was particularly good.
Catholic school has really messed me up. Is it just me, or is this trio kind of sexy?
No, I did not take a spin.
Boy Toy
Not only a voodoo doll, but a perfect New Orleans tourist shop voodoo doll!
Bedtime Barbie - still in the original box!
And that was not the only thing in a box...
I love how this couple create a perfect mirror image - they are even connected as they ignore each other.
And now the category you've all been waiting for - nakedest costume!
In the male category, we start out with a couple of pharoahs, who I ended up hanging out with a lot. They were really fun!
Risky Business, we're getting there, we're getting there. I love how even surrounded by a naked Tom Cruise and a leatherman, this girl is still only interested in candy.
And the winner in the male category of nakedest costume - you can't get much more naked than drawing your clothes on.
Now for the ladies. These girls are almost there. Extra points for fishnets, but not quite naked enough.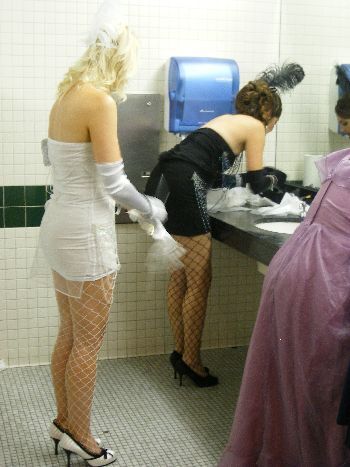 Here we have half-naked Dorothy and half-naked, umm, bunny-maid, but in spite of the super-short skirts, they are still too clothed for this category.
And here we have the Victoria's Secret Angel - DING! DING! DING! We have a winner, folks!!!
(All photos taken by Elise Thompson for LAist)