Pedicabs to Make a Comeback in LA?
Stories like these are only possible with your help!
Your donation today keeps LAist independent, ready to meet the needs of our city, and paywall free. Thank you for your partnership, we can't do this without you.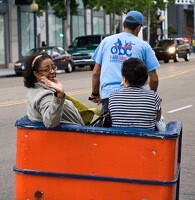 Photo by Eric Richardson/blogdowntown
Two years ago, two pedicab companies tried to set up shop in downtown to carry commuters from subway station to work, from bar to bar, or any kind of short range trip. Lacking permits, they were shut down and the pedicab issue went to study. Now a proposal is back and headed to the city's Transportation Committee, however with some odd rules, notes Eric Richardson at blogdowntown.Those regulations include operating on streets with speed limits up to 25 miles per hour and one about the appearance of the cyclist-cabbie: "'Driver must be attired in a shirt with sleeves, and a collar, pants or shorts (no sweat pants) with a belt and black shoes.' The vague offense of 'Failure to present a neat personal appearance' garners a $25 fine, plus immediate removal from service."
The full report and a study is embedded below: