Parking Meter Increases Almost Done Citywide
LAist relies on your reader support.
Your tax-deductible gift today powers our reporters and keeps us independent. We rely on you, our reader, not paywalls to stay funded because we believe important news and information should be freely accessible to all.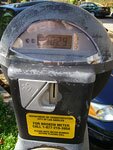 Since the Fall, Los Angeles has been adjusting parking meter rates throughout the city to an increased $1 per hour rate at the minimum (you'll find some meters up $4 an hour) and they expect to be done by the end of January. Not only that, beware of the time. The days of free parking after 6 p.m. is over--numerous areas will now have meters in force until 8 p.m. The worst part of this transition is that in some areas, meters say they are enforced to 6 p.m. and the signs above say 8 p.m. What to do? What to do?