Stories like these are only possible with your help!
Your donation today keeps LAist independent, ready to meet the needs of our city, and paywall free. Thank you for your partnership, we can't do this without you.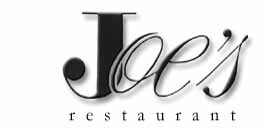 In a town where most restaurants last about half as long as Nick Lachey's and Jessica Simpson's marriage, the Venice staple -- Joe's Restaurant -- proves that its California-French menu has staying power to last at least thru the rest of Jess' singing career -- and then some.
Joe's opened in 1991, making '06 its 15th year in the business. Along the hip Abbot Kinney Blvd., Joe's exudes the same aura: the stylishly cool, yet casual-ish, neighborhood joint. While the prices may preclude most of us from dining too often, the times we do eat at Joe's are well worth the trip and the cost to the far far Westside.
On a recent visit, we had 8:30 reservations on a Saturday night. The place was crowded, and we were told they were running about 20 minutes behind schedule. While waiting, we sidled up to the small bar and asked the barkeep if weekends were always this busy. His response was very Swingers-esqe ("The place is dead anyway.") It wasn't that busy, he said, sometime folks had to wait an hour for their reservations. Ouch. We passed the time with a great bottle of Monte Lomas Malbec (a red from Argentina, $28) and were seated by 9 PM in the covered back patio.
While our waiter highly recommended the tuna tartare and smoked salmon with sliced cucumbers ($13) for starters, we opted for two hot appetizers on this chilly December night. First up: diced tomatoes and lemon oil porcini mushroom ravioli with wild mushrooms parsley and parmesan broth ($14), and then a seared scallops with butternut squash puree french beans, truffle broth ($16). Ravioli and scallops are usually filling after a few bites, so sharing these decadent, yet sublime, appetizers is the right way to go with these two choices.
For entrees, we chose a roasted sirloin of beef with mashed potatoes, crispy artichokes brown butter balsamic vinaigrette and red pepper juice ($27). Cooked rare, the thinly sliced beef was extremely tender and juicy. The monkfish with French beans and chantrelle mushrooms and carrots was mild complemented perfectly with the chantrelles. Another dinner partner chose the grilled escolar with lobster mushrooms, cipollini onion, eggplant herb puree and coconut curry froth off the prix fixe menu, which many restaurants don't allow. The fish had an overly charrred flavor, which was the only misstep of the evening.
While Joe's has a great port and cheese selection for after dinner, we chose a tradtional dessert to share. (All desserts all $8). While we were tempted by the peanut butter cheesecake, chocolate sablee, caramelized banana and celery ice -- we went for the s'mores. Joe's "S'mores Revisited" is a delightful fudge brownie with graham cracker ice cream, toasted marshmallow cream and chocolate smear. It's just too good for a campfire.
Joe's Restaurant
1023 Abbot Kinney Blvd., Venice
310.399.5811
Brunch: Saturday and Sunday from 11 AM to 2:30 PM
Lunch: Tuesday to Friday from 12 PM to 2:30 PM
Dinner: Sunday, Tuesday to Thursday from 6 to 10 PM
Friday and Saturday from 6 to 11 PM