Stories like these are only possible with your help!
You have the power to keep local news strong for the coming months. Your financial support today keeps our reporters ready to meet the needs of our city. Thank you for investing in your community.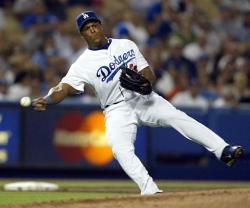 Today is a dark day for Dodger fans. According to ESPN's Peter Gammons and The Sporting News' Ken Rosenthal, Adrian Beltre has signed a five-year contract with the Seattle for somewhere between $60 and $65 million.
Come on, Frank McCourt. You can't compete with that? Paul DePodesta is an excellent general manager, who will maximize his resources as well as anyone in baseball. But if Frank McCourt wasn't going to raise payroll enough to match $13 million for one of the game's rising young sluggers, then he should reconsider his ownership.
TJ Simers of the LA Times reported on Tuesday that McCourt is failing to make payments of $232,120 on his Boston waterfront property, defaulting a $22 million loan. In the meantime, McCourt's wife just bought a $6.5 million home in Holmby Hills (right by his own $25 million mansion), while McCourt's son Travis saved enough allowance money to spend $100,000 on baseball memorabilia. Needless to say, McCourt is now seeking more loans.
Frank, do LA favor. While I can understand why your wife refuses to live with a poser, like yourself; and can only be satisfied with a $6.5 million home, we'd rather have Adrian Beltre. Ditch the house, and use the spare change on a great third baseman if he hasn't signed on the dotted line yet.
Still, this speaks poorly of Beltre. Where is his loyalty? The Dodgers sacrificed so much to sign him (like their Dominican operations for a year), after it was revealed they did so when Beltre was underage. The Dodgers were painfully patient with him. It finally paid off this year when he realized his potential and led the majors in home runs. While I don't know exactly what the contract negotiations with Scott Boras werelike, I can't imagine that the Dodgers offered much less than the Mariners. Beltre should have given the Dodgers a courtesy hometown discount.
So where do the Dodgers go from here? Paul DePodesta needs to be creative. The offense now has a huge hole, and he still needs to find an ace pitcher. Jeff Kent can play third, but LAist would rather see him at second with Alex Cora traded. Milton Bradley is in jail. Shawn Green's best days are behind him. Hee Seop Choi has never realized his potential. Jayson Werth is hurt. Steve Finley is an Angel. The Dodgers still have no catcher. Brad Penny's arm is a question mark. Odalis Perez might leave via free agency. Jose Lima is already gone in what was a mistake to not offer him arbitration. Edwin Jackson is on the block and may not be ready to start. Jeff Weaver lacks poise. And Kaz Ishii is maddeningly inconsistent.
Paul, we need your creativity NOW.