This is an archival story that predates current editorial management.
This archival content was written, edited, and published prior to LAist's acquisition by its current owner, Southern California Public Radio ("SCPR"). Content, such as language choice and subject matter, in archival articles therefore may not align with SCPR's current editorial standards. To learn more about those standards and why we make this distinction, please click here.
New Year's Eve In Outer Space: Gnarles Barkley & The Flaming Lips Perform At The Galen Center
Before you read more...
Dear reader, we're asking you to help us keep local news available for all. Your financial support keeps our stories free to read, instead of hidden behind paywalls. We believe when reliable local reporting is widely available, the entire community benefits. Thank you for investing in your neighborhood.
Donning a trademark jumpsuit and moon-man helmet, Cee-Lo Green of Gnarles Barkley emerged on stage at USC's Galen Center to the tune of a surging, epic, space-odyssey instrumental. Touting the merits of Danger Mouse, Feng Shui, and Crown Royal, our weeblesque hero warmed up the enthusiastic crowd with a string of pervasive, electro-rock/neo-soul, head boppers.
Threatening that the party might get "off the chain" to a bunch of arty-indie-college-punks was certainly the booze talking, but the Gnarles Barkley crew did deliver their hits with a flashy display, and a well-oiled sound. What Green lacked in vocal energy (he sounded good but tired), the rest of the band made up for in fierce, live performances and lovely digital-festooning. The Major Tom teaser was also nice.
The Flaming Lips took over and perpetuated the E.T. theme with a large, round, lighting-rig that doubled as a space ship, complete with ladder, for dramatic entrances and exits. On stage, they were flanked by a mob of left-over Santas, and a mass of outer space, glitter-vixens. As an opener, Wayne Coyne cracked, undulated and hummed his way through an exuberant version of Queen's Bohemian Rhapsody, and then exploded on stage for a while before stopping just short of midnight to prepare for the big event.
He spoke words of love, reflected on the meaning of Auld Lang Syne, and gave the audience a few moments to collect themselves before crossing over into 2007. Buoyant, expectant, balloons peek-a-booed from backstage while confetti cannons and pressurized streamers stood poised to mark the moment of truth.
The boy in the bubble led the countdown, and then seamlessly went on with the show. Expected lunacy ensued. Pedestrians played with balloons while a singing, nun-puppet with creepy teeth lead a call and response to Yoshimi Battles the Pink Robots via the distorted video feed from the fish-eye, mic-mounted, camera.
There was also a brief and charming "What a Wonderful World" multi-jam where The Flaming Lips were joined onstage by a sultry, smoky, harmonizing Chan Marshall of Cat Power and a grainy, Armstrong-singing Cee-Lo.
Also noteworthy: Rumblings of an Arquette sighting (not sure which one) at the lady toilet, Bob Odenkirk (Mr. Show) spotted in line for something, Oscar Nunez (The Office) observed while rushing to his seat, and several ex-lovers (mine and other women's) seen dangerously milling about.
Happy New Year.
...And now without further ado, The Flaming Lips singing "Auld Lang Syne" and other A/V highlights after the jump...
Gnarles Barkley
Photos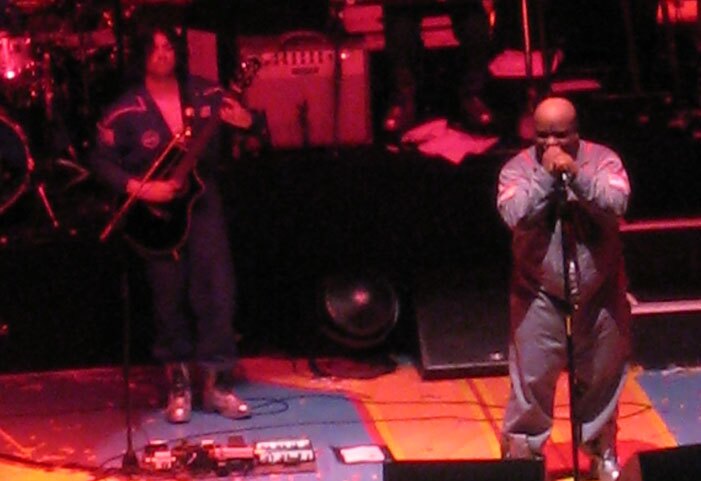 The Flaming Lips
Photos & Videos
Photos and Videos by Lisa Brenner