This is an archival story that predates current editorial management.
This archival content was written, edited, and published prior to LAist's acquisition by its current owner, Southern California Public Radio ("SCPR"). Content, such as language choice and subject matter, in archival articles therefore may not align with SCPR's current editorial standards. To learn more about those standards and why we make this distinction, please click here.
M-V-P?
Before you read more...
Dear reader, we're asking you to help us keep local news available for all. Your financial support keeps our stories free to read, instead of hidden behind paywalls. We believe when reliable local reporting is widely available, the entire community benefits. Thank you for investing in your neighborhood.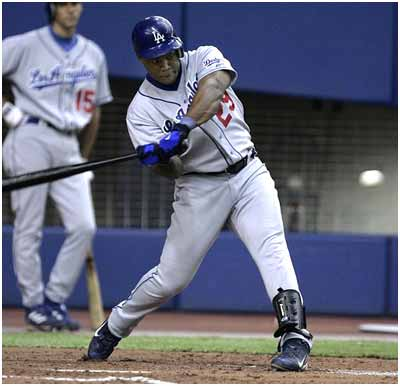 Don't look now, but Adrian Beltre leads the Major Leagues in home runs. Beltre hit his 40th yesterday, in the Dodgers 10-2 rout of the Expos. At this rate, Beltre may become the first Dodger ever to hit 50 home runs one season.Who would have thought that a year ago?
But at 25, it is now obvious that Beltre was called up to the Majors when he was too young, but at least he used those six full years to develop and mature. Now he has super-agent Scott Boras salivating over offseason contract negotiations, which could net Beltre $12-15 million a year. Although LAist thinks Boras may ask for A-Rod money. Good luck...
Chants of "M-V-P" are now heard with regularity at Dodger Stadium, so LAist asks, is Beltre really the NL MVP? If the season ended today, we'd vote him second.
Granted, Beltre's 40 home runs, .334 batting average, .646 slugging percentage, 1.027 OPS, gold glove caliber defense, and position in the top-four in all triple crown categories is impressive. It's enough to put him just ahead of Scott Rolen, Albert Pujols, and Jim Thome in our view.
But even as Dodger fans, LAist submits that Barry Bonds is the real NL MVP again. Not only does Bonds have a ridiculous .612 OBP (almost 200 points higher than every else), but he's also leading the NL in batting average at .369, 27 points above the competition. So, while Bonds sees fewer pitches than anyone, he regularly does great things with those pitches as evidenced by the high BA and his astounding .819 slugging percentage. He's still mustered up 35 home runs.
Yo, Adrian, we want to keep you. We just don't buy that you're the MVP.