Photo Essay: Muse Halloween Party @ LACMA
Stories like these are only possible with your help!
You have the power to keep local news strong for the coming months. Your financial support today keeps our reporters ready to meet the needs of our city. Thank you for investing in your community.
Saturday night's huge LACMA Halloween party sold out so quickly I had to buy my tickets on Ebay. Even then, 40 bucks a ticket for an entire night of drinking, hors d' ouvres, DJs, and entry into the Dali exhibition sounded too good to be true. It was definitely clear where corners were cut to make the event affordable. But I don't know anywhere you will find more creative costumes. Even WeHo has some stiff competition here.
Just getting my tickets once I arrived was like a cross between The Amazing Race and buying crack. I had to know the right code words and find some shady character in a darkened parking lot. Once inside, the huge courtyard was beautifully decorated. The costumed guests alone made everything festive. In fact, I can't begin to fit all of the amazing costumes here and will post more later.
(Photos after the jump)
My friends and I dressed up as various Edward Gorey characters.
I was a Gashlycrumb Tiny
There was a dream location, tasteful decorations, and a good DJ. So how can they keep down the budget on such a large event? The food, of course! I might not normally have noticed, but I was starving, and I did bring along another restaurant reviewer as my "date". The hors d'ouvres consisted of tortilla chips, cheese quesedillas, and potato skins. That's all. Oh, and the potato skins were disappointingly stuffed with refried beans. There was some serious grumbling from bacon-lovers in the house. The "afterparty" substituted corndogs for potato skins. I asked my friend, "Patina Group wouldn't serve corn dogs would they?" She responded, "You'd be surprised how low the Patina Group will go."
Everyone was very cool, and we all enjoyed admiring each other. Other than that, there was not much to do. Candy was strewn around on the tables, and after awhile my friend invented the game of "Dum-dum sucker scavenger hunt."
I enjoyed the Dali exhibit. Although the drawings and paintings were not his best work, they did have two of my favorite sculptures. Soon I invented the game of "taking forbidden pictures in the museum without getting caught." No flash - I'm not a total asshole. Everyone was taking pictures; the only guard who cared about stopping the photography really had his work cut out for him. The rest of the employees ignored us.
The guy dressed as Beetlejuice was having far too much fun all night. Deservedly so - he ended up winning the very competitive costume contest.
I couldn't believe this was a Dali at first. Then I thought it was Walt Disney. Perhaps it is a patron - at the very least a commission. Maybe I will look like an idiot when someone tells me what this painting is. It was not the kind of night people read the descriptions on the wall.
Then everyone walked down the block to the "afterparty". There had to be a mid-party change of venue since there was a curfew on outdoor music in the LACMA neighborhood. It was a long block. We followed half-naked BunnyNurse the whole way. My friend remarked how sad it was that BunnyNurse had not been able to find a dress large enough to contain her ampleness. But she still was not naked enough for my game of "Photograph the nakedest person."
The afterparty had the same drinks, people, food (except for the corndogs!) and everything. Still, I was really pleased, because we moved to LACMA West and I have been dying to get into the old May Company building for years.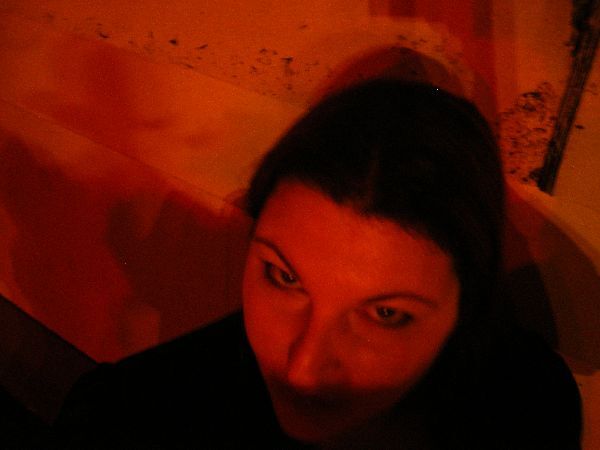 They also provided a free prom-style photo. The line was really long, so I just took a photo of strangers.
The specialty drinks were excellent. The Dali-tinis (Cosmos) were strong, delicious and refreshingly chilled. This little Dali-tini kind of looks like it's on fire. Very Dalinian.
The unlimited drinking was limited by insufficient bars and bartenders. If people have to wait in line for 20 minutes for a drink, they can't drink that much. Of course, I soon found a loophole - just order 3 drinks at a time and pour them into a water glass. That loophole had me ending the evening running around wearing the hammer hands. "Look out! I have hammers - for hands!!"
Stay tuned for Part 2 of the LACMA post, which will include the nakedest people!
In general, I would score the event:
Venue 10
Decorations 10
Drinks 10
Lines for drinks 5
Food 3
DJ 9
Friendliness of guests 10
Guest's costumes: 10
Friendliness and professionalism of employees 10
Access to restrooms and lines in the "ladies" rooms 8
Extras - exhibit, free photograph, second venue, etc: 10
(All photos by Elise Thompson for LAist. Except for the picture of me with hammer hands, which was either taken by Beetlejuice or a pharoah).