Mike Webber Anniversary Memorial Tribute
LAist relies on your reader support.
Your tax-deductible gift today powers our reporters and keeps us independent. We rely on you, our reader, not paywalls to stay funded because we believe important news and information should be freely accessible to all.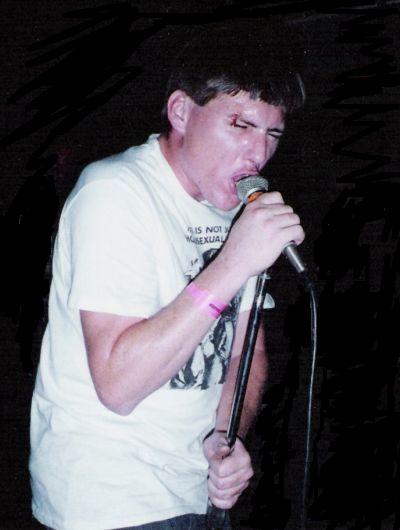 One year ago today the South Bay lost a punk rock legend and I lost one of my oldest friends.
Michael James Webber
Dec 1, 1962 - Nov 11, 2006.
Michael James Webber, a life long resident of Torrance, passed away on Saturday, November 11, 2006 in Torrance. Born in Inglewood, CA, Michael was 43 when he died. Born on December 1st, 1962, he attended Saint Lawrence Martyr followed by South High School. He went on to pursue a career as a musician, singer and songwriter fronting the punk band "Nip Drivers"
I can't think of any better tribute now than the one I wrote for his memorial book:
When I think of Mike Webber, my mind immediately jumps to all of the wild, sensational moments – him rolling around onstage at the Vex, cops storming into one of his parties, having to crawl out of the Anti Club on our hands and knees to get away from the angry skinheads that Mike's stage performance had riled up.
But beneath the punk rock antics, there lay an unusually kind and gentle soul. Mike was sweet and he was guileless. He had a genuine interest in other people and listened attentively when they spoke, eager to know them, eager to learn more. He looked upon his friends with great respect and admiration.
Another thing I think about when I remember Mike is his incredible courage. Not only the courage to face down a bunch of angry skinheads. Mike faced tremendous odds in his personal life, but he never stopped fighting. He never gave up trying to conquer his demons and overcome the obstacles life placed in his path. He never stopped the music. Some people live life on the edge. Mike danced on it.
This touching memorial video
features Mike and Jula Bell singing In Heaven from Eraserhead