Metrolink Train Kills Pedestrian in Northridge
Stories like these are only possible with your help!
You have the power to keep local news strong for the coming months. Your financial support today keeps our reporters ready to meet the needs of our city. Thank you for investing in your community.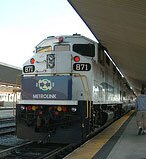 A person was hit and killed by a Metrolink train near Corbin Ave. in Northridge around 7:15 a.m. this morning delaying service along the Ventura County Line. As of 8:15 a.m., the Los Angeles Fire Department was still on scene and said it was going to be a "difficult recovery" of the body. Both side of the tracks were blocked off. It seems that Metrolink is experimenting with Twitter and giving some updates via that for now (kudos to them). The last update from around 8:15 a.m. was "Metrolink Vent. Co. Line train 103 has turned at Van Nuys and will run as train 106. MTA buses to provide alt. trans. Between Van Nuys and Chatsworth."