Make Your Own Bus Stop Kit
Stories like these are only possible with your help!
Your donation today keeps LAist independent, ready to meet the needs of our city, and paywall free. Thank you for your partnership, we can't do this without you.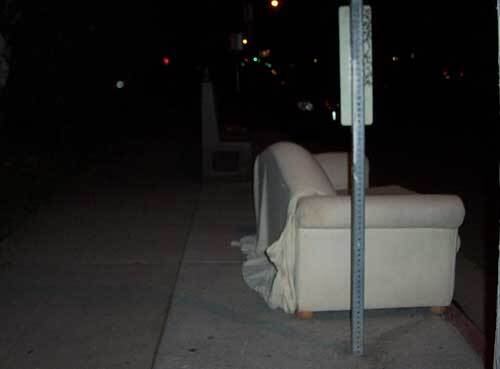 We wrote this press release for DOT:
The City of L.A. has begun replacing the conventional hard plastic benches used for DASH stops with plush sofas. "We decided that we needed to 'up' the image of public transportation. And why not do it with some Hollywood flair?" said a DOT spokesman. The pilot program kicked off at the corner of Moorpark & Allott Ave. on the Van Nuys/Studio City Clockwise Route. Unfortunately, the program was cancelled a day later when vandals stole the couch and dumped it into the L.A. River.
The next experiment is at the exact same location. Take one park bench, one bicycle lock and lock it to a sign. Mission temporarily accomplished. Pictures after the jump.
And don't forget something for the kids