Photo Essay: Star Light, Star Bright
Time is running out to keep LAist funded.
It's the FINAL DAY of our June Member Drive and we are behind on our goal to keep local news strong for the coming months. Your support today keeps our reporters ready to meet the needs of our city. Plus, your gift's impact will be twice as strong because it will be matched dollar for dollar!
Most people have heard of Candy Cane Lane, a neighborhood in Woodland Hills that puts up elaborate holiday displays. There are a number of other neighborhoods around Los Angeles that can also deck the halls.
It all started in South Redondo when a local French restaurant encouraged the neighbors to put white lights in the trees. Every year, a little neighborhood east of Prospect and south of Palos Verdes Drive threatens to put GE out of business.
The streets are closed to through traffic between 5pm and 10pm, but it's better to park on the other side of Prospect and walk anyways. Driving through this madness, you are trapped for the entire route, with no escape from jolliness.
(Photos after the jump)
Thank goodness baby Jesus has those friendly snowmen to look after him!
Dang Hippies
As if those animatronic deer weren't creepy enough, here they drink thirstily from a pool of - light.
Before those fancy-assed moveable reindeer, we had to decorate old-school!
A local church group sings carols and cheers for Jesus. Go-o-o-o-o-o-o-o Savior!
It's just not Christmas without the Christmas frog.
OK. You can make it stop now.
Really. Make it stop.
Make IT STO-O-O-O-O-O-O-O-P!!!!!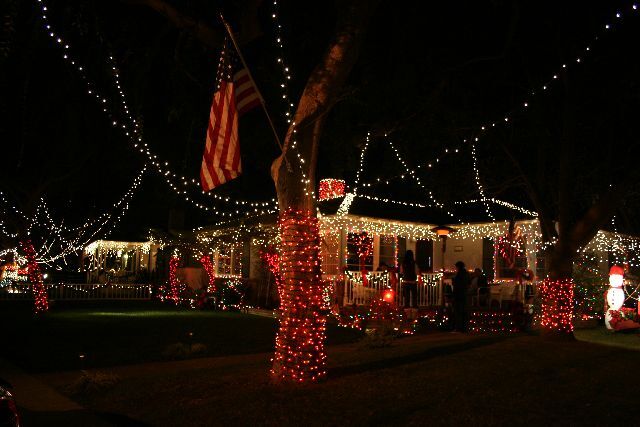 Redondo Beach lights
East of Prospect, South of Palos Verdes Drive, North of PCH.
Candy Cane Lane
Lubao Avenue and Oxnard Street
Woodland Hills, CA 91367