LADWP Responds to Overcharging Settlement
Today on Giving Tuesday, LAist needs your support.
Today, your donation to LAist will be matched dollar for dollar. Your tax-deductible gift that powers our reporters and keeps us independent will be felt twice as strong today, so don't delay!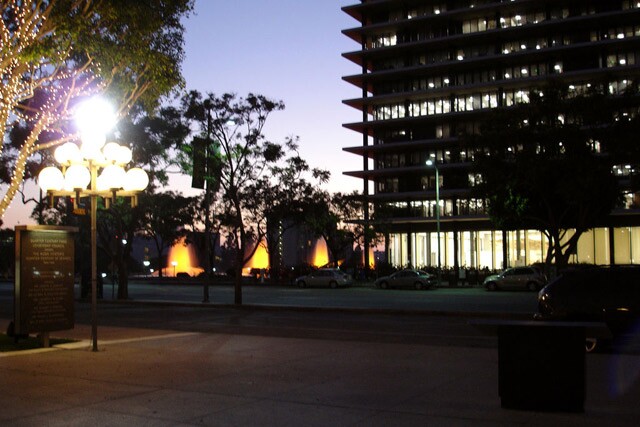 The DWP Building downtown | Photo by Omar Omar via Flickr
After yesterday's announcement of an $160 million settlement in the case where the Los Angeles Department of Water and Power "knowingly overcharged State and local governmental agencies for electricity (as the State Attorney's Office put it)," the city agency released a statement online only (mysteriously, it wasn't e-mailed). Basically, they say everything is fine and dandy and not to worry about your bills:
"We are pleased to have fashioned an agreement which will enable energy efficiency improvements and overall lowered energy usage for the plaintiffs in this action. We can also take comfort in the fact that the involved parties are government entities whose constituents are largely LADWP customers. That the beneficiaries of this settlement serve the residents of the City and County of Los Angeles was a prime factor for LADWP to enter settlement negotiations," Mr. Nahai said. LADWP would like to reassure all ratepayers our billing practices are absolutely proper. Subsequent to the initiation of the plaintiffs' lawsuit, California Government Code Section 54999 was amended effective January 2007, thereby validating our actions and upholding the LADWP billing practices that were in question in this case.

Litigation notwithstanding, the Department remains on excellent terms with the parties involved in this action. The Los Angeles Department of Water and Power looks forward to putting this dispute to rest and building close productive relationships with these entities, our sister agencies.


The lawsuit was brought forward by a whistle-blower under the
California's
False Claims Act
.