This is an archival story that predates current editorial management.
This archival content was written, edited, and published prior to LAist's acquisition by its current owner, Southern California Public Radio ("SCPR"). Content, such as language choice and subject matter, in archival articles therefore may not align with SCPR's current editorial standards. To learn more about those standards and why we make this distinction, please click here.
Photo Essay: Hollywood Anti-War March, Part 1
Support your source for local news!
The local news you read here every day is crafted for you, but right now, we need your help to keep it going. In these uncertain times, your support is even more important. Today, put a dollar value on the trustworthy reporting you rely on all year long. We can't hold those in power accountable and uplift voices from the community without your partnership. Thank you.
The Bus Riders Union singing (see the video) | All Photos by Zach Behrens/LAist
Saturday's Anti-War March in Hollywood, organized by the ANSWER Coalition was amazing (their acronym stands for Act Now to Stop War and End Racism). Thousands walked down Hollywood Blvd, down Schrader, then onto Sunset, eventually ending in front of the CNN building.
Many LAist Featured Photo Contributors have been contributing photos to the Flickr pool an we'll feature them in another photo essay. If you're not a member, join! If you are currently are, submit your photos today!
Wednesday, March 19 reflects the fifth anniversary of the US invasion and occupation of Iraq. According to the ANSWER Coalition, over a million Iraqis have died, two million have beeen permanently displaced and 2.5 million are now refugees.
Nearly 4,000 U.S. soldiers have been killed and tens of thousands more have seriously wounded or disabled. Veterans are facing increased unemployment, high suicide and homicide rates, homelessness. In addition to lack of adequate training and gear, soldiers continue to experience insufficient medical care and serving.
The cost of war extends to U.S. civilians, the Coalition continues to explain. $425 million is spent a day on contracts while budgets for services here in the U.S. continue to be slashed.
"This war has been going on far too long"
Doctors for Peace said that five billion has been spent on the war and another five billion will be spent on care for soldiers. Just a quarter of one of those chunks of cash could insure all those not insured in the U.S. "It's not that we don't have the money, it's that we don't know how to spend it."
Protest chant: "Healthcare, not warfare!"
Why hasn't New Orleans been rebuilt yet? Why are teachers losing their jobs, a speaker asked on stage.
Another chant heard: "Iraq for Iraqis, troops out now!"
"End Colonialism In The 'Americas'"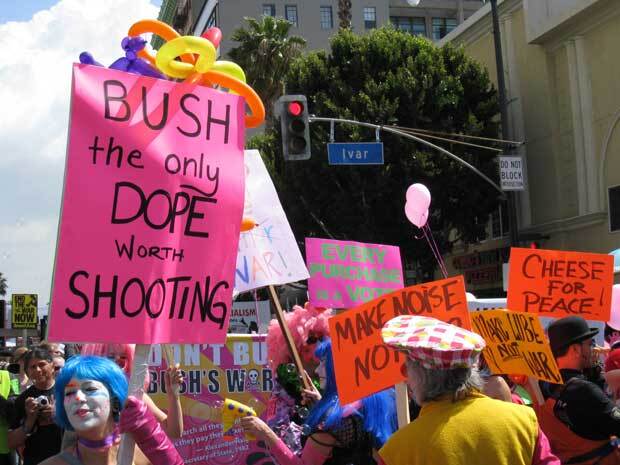 Cruise off the highway and hit locally-known spots for some tasty bites.

Fentanyl and other drugs fuel record deaths among people experiencing homelessness in L.A. County. From 2019 to 2021, deaths jumped 70% to more than 2,200 in a single year.

This fungi isn't a "fun guy." Here's what to do if you spot or suspect mold in your home.

Donald Trump was a fading TV presence when the WGA strike put a dent in network schedules.

Edward Bronstein died in March 2020 while officers were forcibly taking a blood sample after his detention.

A hike can be a beautiful backdrop as you build your connection with someone.