Happy 227th 'Observed' Birthday Los Angeles!
Stories like these are only possible with your help!
You have the power to keep local news strong for the coming months. Your financial support today keeps our reporters ready to meet the needs of our city. Thank you for investing in your community.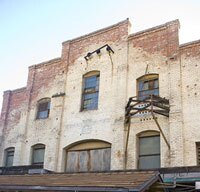 Los Angeles' 227th birthday is actually on September 4, but early this morning was the annual Pobladores "Walk to Los Angeles" nine-mile Re-enactment.
Unfortunately, the City of Los Angeles had no mention of it on their website homepage and while their birthday page navigation links to the correct PDF info flyer and walker brochure, it still has the 2007 information on the website (date, volunteer registration, and route flyer [.pdf]).
In any case, happy Labor Day and "observance" of Los Angeles' birthday.
Photo at Olvera Street by mike (el madrileño) via Flickr