Gay Unions Don't Count When it's 'all about the numbers'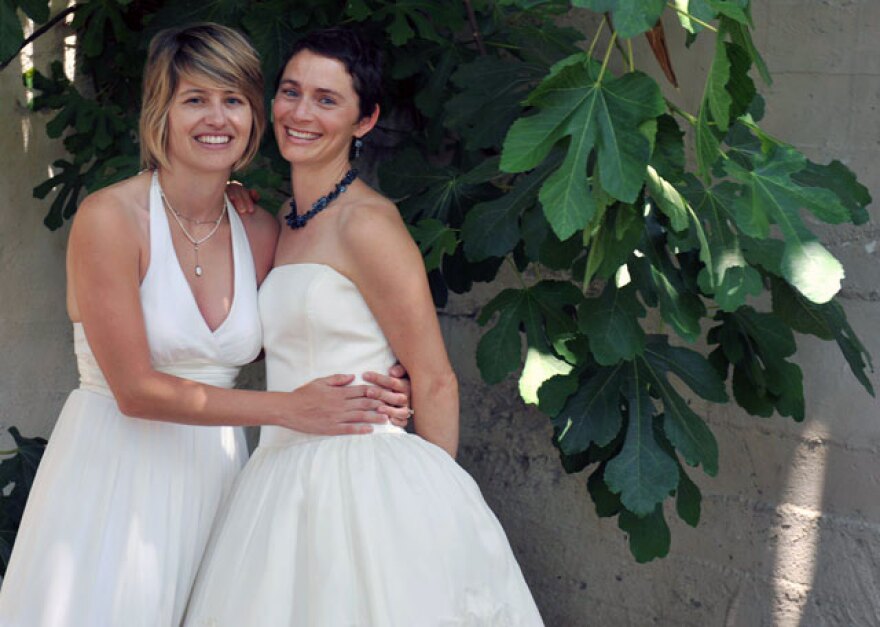 LAist relies on your reader support.
Your tax-deductible gift today powers our reporters and keeps us independent. We rely on you, our reader, not paywalls to stay funded because we believe important news and information should be freely accessible to all.
This couple will have to identify as "unmarried partners" on the 2010 Census, despite marrying legally in West Hollywood this summer. (Photo: Tom Andrews/LAist)
The country is preparing for the 2010 Census, and already same-sex married couples are feeling left out. Respondents will not be asked about their sexual orientation, and households with same-sex couples married by law must be defined as they were in 2000: as "unmarried partners," reports the Press-Telegram.
U.S. Census spokeswoman Cynthia Endo says: "This is all about the numbers. This not about lifestyle or anything else."
But the cool neutrality of numbers leaves some same-sex partners and spouses feeling left out in the cold. If the Defense of Marriage Act means they aren't recognized legally, many believe it keeps them from gaining political power and "the same visibility as minorities." Being hidden makes same-sex couples "invisible" and leads to an "undercount." Further, their children will be recorded as belonging to a single parent, and not as part of a two-parent family, further stigmatizing couples who may already face social scrutiny for sharing their coupled lives with children.