This is an archival story that predates current editorial management.
This archival content was written, edited, and published prior to LAist's acquisition by its current owner, Southern California Public Radio ("SCPR"). Content, such as language choice and subject matter, in archival articles therefore may not align with SCPR's current editorial standards. To learn more about those standards and why we make this distinction, please click here.
Fun with the Huffington Post's new News Ranker
We need to hear from you.
Today during our spring member drive, put a dollar value on the trustworthy reporting you rely on all year long. The local news you read here every day is crafted for you, but right now, we need your help to keep it going. In these uncertain times, your support is even more important. We can't hold those in power accountable and uplift voices from the community without your partnership. Thank you.
The Huffington Post is one of the biggest Internet surprises over the last few years.
When it debuted in May of last year no one thought there was any need for another political blog, especially a liberal one, when Kos, Atrios, and Wonkette seemed to be covering all of the bases.
This August, after being around barely over a year, the HuffPo became the 5th most popular blog on the entire web according to Technorati. Currently they're #6,
The blog led by Arianna Huffington and written by a wide variety of celebrities, comedians, and other bloggers is currently the most popular political blog, two full spots above Kos, and eight spots above the most popular conservative blog, the one written by Michelle Malkin.
With all their fancy success the Huffington Post launched a nifty new widget yesterday called the News Ranker that searches all of the words in their site and produces colorfully sweet charts.
We decided to investigate this tool and learn more about the blog that America has deemed so worthy.
Check out what we discovered after the jump...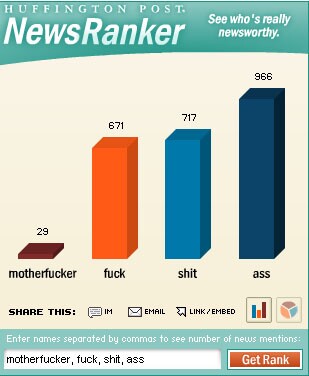 It's been many, many years since we saw this much snow in our mountains. Going up there right now isn't safe, but here are some places where you can enjoy the view and snap a pic.

April Valentine died at Centinela Hospital. Her daughter was born by emergency C-section. She'd gone into the pregnancy with a plan, knowing Black mothers like herself were at higher risk.

A look at years past when snows creeped into our citified neighborhoods, away from the mountains and foothills.

In the face of a drier future, that iconic piece of Americana is on its way out in Southern California.

Bob Gregory, 62, went missing the same day as Sands. His body was recovered near Mount Islip.