This is an archival story that predates current editorial management.
This archival content was written, edited, and published prior to LAist's acquisition by its current owner, Southern California Public Radio ("SCPR"). Content, such as language choice and subject matter, in archival articles therefore may not align with SCPR's current editorial standards. To learn more about those standards and why we make this distinction, please click here.
For Food, What's GOOD in Los Angeles?
Support your source for local news!
The local news you read here every day is crafted for you, but right now, we need your help to keep it going. In these uncertain times, your support is even more important. Today, put a dollar value on the trustworthy reporting you rely on all year long. We can't hold those in power accountable and uplift voices from the community without your partnership. Thank you.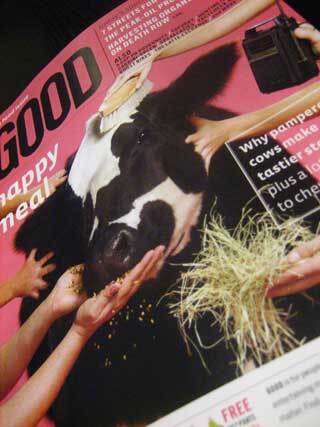 The locally based GOOD Magazine, founded by Ben Goldhirsh, always treats its hometown with respect. Here's some of what they had to say about Los Angeles in their most recent rag, the food issue.
LA Weekly's pulitzer prize food critic, Jonathan Gold, is given props in "The Next Sushi" (pg. 70). Which food type will go from unknown to trendy? Gold predicts that Korean Bibimbap could be it: "[It] may someday be as popular among Californians as the pizza or the teriyaki stick."

Here's one hardcore local foodies: "America's Tastiest Streets" (pg. 66) visits the most scrumptious and affordable streets in America. For Los Angeles, they choose a two and a half mile stretch of Sunset Blvd. from Silverlake Blvd. to approximately Normandie Ave. The claim we this stretch has "some of the best Asian fare in the country. And it's cheap." They feature Agra Cafe, Pho Cafe and Jitlada Thai (who we visited for our Thai Town series). Beyond Asian fare, they take on Alegria (Mexican) and the original Zankou Chicken (the latter two are both favorites of LA City Councilman Eric Garcetti).

"The Deer Hunter" (pg.82) is a city resident who heads up in the hills above LA with his bow and arrow hunting the black-tailed deer. Kudos to this line: "Los Angeles is a mountain town. That's easy to forget with the bustling throngs and the cell-phone towers disguised as palm trees, but it's the only major American city bisected by an actual mountain range."

In a fact-feature about "What We Eat" (pg. 72), GOOD visits Pasadena High School to find the healthiest school lunch they could find. To contrast the practically free school lunch, they then visit Hidden Restaurant in Santa Monica where a pizza costs $250.00 (creme fraiche, marinated lobster carpaccio and Beluga caviar on a wafer-thin crust). On the raw food page, Leaf Cuisine is mentioned, but not specific to the Culver City/Sherman Oaks restaurant (we featured them in this month's breakfast series).

"This is Govind" (pg. 44) profiles Govind Armstrong, the executive chef and co-owner of Table 8.

Non-LA fact: Did you know Kraft owns Boca Burger, Pepsi owns Naked Juice, Coca-Cola owns Odwalla Juice, and Kellogg's owns Kashi, Gardenburger and Morningstar Farms? When "Buying Organic" (pg. 80), it's not so feel-good for some.And two for transportation...
"Ghost Rider" (pg. 23) features the white spray-painted permanent Ghost Bikes of New York City. They are "sobering epitaphs for biers who've been hit or killed by automobiles." Why not feature Los Angeles? Oh wait, there's only one.

In 1940, California opened its first freeway; in 1955, James Dean dies in a car accident on the 5-Freeway (after supposedly eating at the Tip's Coffee Shop in Castaic Junction); in 1908 the Ford Model T was 21 mpg, in 2005, the average mpg for a new car was 17.2 according to "Carland: A century of motoring in America" (pg. 32).
Photo by Zach Behrens/LAist
Cruise off the highway and hit locally-known spots for some tasty bites.

Los Angeles-based restaurant owners rejoice as a new ordinance makes its way to the city council.

The new season of LAist Studios' WILD podcast is a fictional rom-com set in Southeast L.A. Diners play a big role in fostering conversation between the shows' two hosts this season. Here are host Erick Galindo's must-visit L.A. diners — whether you like breakfast or not.

The new season of LAist Studios' WILD podcast is a fictional rom-com set in Southeast L.A. Donuts play a big role in episode two of the show. Here are some of our favorite, wildly creative, and iconic donut shops in Los Angeles.

Cheap Fast Eats visits one of L.A.'s most distinctive neighborhoods for some nighttime bites.

How to get the best eggs in town without leaving your yard.