For Food, What's GOOD in Los Angeles?
LAist relies on your reader support, not paywalls.
Freely accessible local news is vital. Please power our reporters and help keep us independent with a donation today during our fall member drive.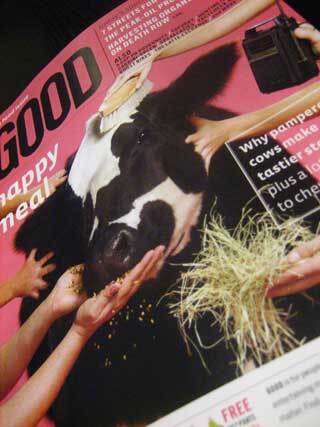 The locally based GOOD Magazine, founded by Ben Goldhirsh, always treats its hometown with respect. Here's some of what they had to say about Los Angeles in their most recent rag, the food issue.
LA Weekly's pulitzer prize food critic, Jonathan Gold, is given props in "The Next Sushi" (pg. 70). Which food type will go from unknown to trendy? Gold predicts that Korean Bibimbap could be it: "[It] may someday be as popular among Californians as the pizza or the teriyaki stick."

Here's one hardcore local foodies: "America's Tastiest Streets" (pg. 66) visits the most scrumptious and affordable streets in America. For Los Angeles, they choose a two and a half mile stretch of Sunset Blvd. from Silverlake Blvd. to approximately Normandie Ave. The claim we this stretch has "some of the best Asian fare in the country. And it's cheap." They feature Agra Cafe, Pho Cafe and Jitlada Thai (who we visited for our Thai Town series). Beyond Asian fare, they take on Alegria (Mexican) and the original Zankou Chicken (the latter two are both favorites of LA City Councilman Eric Garcetti).