This is an archival story that predates current editorial management.
This archival content was written, edited, and published prior to LAist's acquisition by its current owner, Southern California Public Radio ("SCPR"). Content, such as language choice and subject matter, in archival articles therefore may not align with SCPR's current editorial standards. To learn more about those standards and why we make this distinction, please click here.
Sweets For Your Sweet: Valentine's Day Candy
Support your source for local news!
The local news you read here every day is crafted for you, but right now, we need your help to keep it going. In these uncertain times, your support is even more important. Today, put a dollar value on the trustworthy reporting you rely on all year long. We can't hold those in power accountable and uplift voices from the community without your partnership.
Gentlemen (and ladies) you've got less than a week now to shop for something sweet for your sweetheart. Perhaps your beloved is all about cupcakes; in that case, hie thee to Crumbs to get their Valentine's Day flavors. But if you're thinking chocolate, for crying out loud, skip the drugstore aisles (we've warned you!) and consider some of these local confections to help you pour some sugar on this Hallmark holiday.
Brentwood's Compartes (did you know they've been around since 1950?) has several Valentine's Day offerings, including their Valentine's Chocolate Covered Oreos Assortment (13 of their double dipped chocolate covered Oreo ™* cookies dressed up for Valentines Day in a Red Velvet Heart Shaped box; $40). You can also get 16 ($40) or 32 ($75) of their delectable handmade truffles in a heart-shaped box, or go for the 1 lb mix of everything they make ($65). If you time your shopping right and head over to the shop on Thursday from 11:30-2:30 p.m. you can grab lunch from the NomNom Truck, who'll be parked outside again, and your $20 minimum Compartes purchase gets you a free NomNom taco!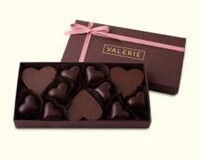 Chocolates for her and him are available at Valerie Confections, whose seasonal selection includes 9, 18, or 36 piece heart-shaped bittersweet or milk chocolate assortments presented in an ivory box with red grosgrain ribbon ($20, $40, $80), a manly Pour Homme set of 11 chocolates ($30), and a collection of chocolates featuring rose petal flavors in the Pour Elle set ($30) in addition to larger gift sets. A hint for the frugal: Valerie is giving 15% off online purchases over $30 through Thursday, February 11th. To get your discount you must enter code LOVE15 during checkout. Please note, the discount is applied before shipping and handling and does not apply to previously placed orders.
Our favorite Valentine's Day item from Switzerland's Teuscher Chocolates in Beverly Hills is their Champagne Truffle, which is their house specialty, created in 1947 that's "a delicate blend of fresh cream, butter and chocolate with a champagne cream center surrounded by a dark chocolate ganache, enrobed in milk chocolate and dusted with confectioner's sugar." (Swoon!) Definitely an indulgent pick, you can get these in boxes of 16 ($41.50), 24 ($61.50), 36 ($89.50), 48 ($119.50), or 72 ($183.50).
San Pedro-based Happy Ending Chocolate will take your online order for their special 8-piece Valentine's Day Collection inspired by William Shakespeare, which includes a piece each of: Vanilla Truffle, Honey Saffron Bon Bon, Kir Royale Bon Bon, Passion Fruit Bon Bon, Strawberry-Balsamic Truffle, Black tea & Lemon Truffle, Lavender Caramel Bon Bon, and Hazelnut-Sage Truffle for $18.
Maybe your heart is made of English Toffee made right here in Los Angeles. If so, you might want to get someone a Toffee Heart from Littlejohns, a goody that's their famous butter crunch toffee, cooked to perfection to ensure that it melts in your mouth, cut in the shape of a heart then dipped in the finest milk chocolate and fresh roasted almonds ($11.73-$51.90 depending on size). They've got heart-shaped fudge and marshmallows, too! You'll find them, of course, at their shop and kitchen inside the Original Farmers Market at Third and Fairfax, where we like to go to watch them make their delicious treats.
LAist Lifestyle Editor Julie Wolfson contributed to this post
Cruise off the highway and hit locally-known spots for some tasty bites.

Los Angeles-based restaurant owners rejoice as a new ordinance makes its way to the city council.

The new season of LAist Studios' WILD podcast is a fictional rom-com set in Southeast L.A. Diners play a big role in fostering conversation between the shows' two hosts this season. Here are host Erick Galindo's must-visit L.A. diners — whether you like breakfast or not.

The new season of LAist Studios' WILD podcast is a fictional rom-com set in Southeast L.A. Donuts play a big role in episode two of the show. Here are some of our favorite, wildly creative, and iconic donut shops in Los Angeles.

Cheap Fast Eats visits one of L.A.'s most distinctive neighborhoods for some nighttime bites.

How to get the best eggs in town without leaving your yard.