This Week in Frozen Yogurt News
Stories like these are only possible with your help!
You have the power to keep local news strong for the coming months. Your financial support today keeps our reporters ready to meet the needs of our city. Thank you for investing in your community.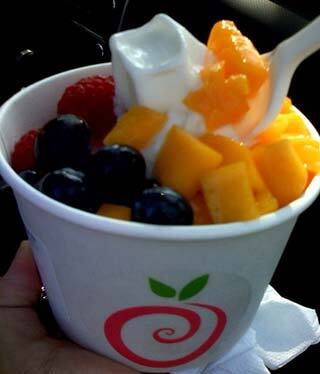 Sure, all over the country the kids are back in school, the temperatures are beginning to dip down, and Starbucks has begun to shill its autumnal fare, but here in Sunny So Cal we are still sweating out our eternal summer, gorging on frozen dairy product treats of often questionable origin. Try as we might, the world of fro-yo is too mighty to ignore, which is why we feel compelled to bring you This Week in Frozen Yogurt News. So you can, like, be totally up to date on what really matters.
First, this week LAist revealed to its readership that among the many local eateries shut down this summer for some nasty health code violations was the Brentwood location of Pinkberry. The reason for the shutdown? The ever tantalizing presence of sewage. Not to imply in any way that sewage somehow was being served up with a swirl and a curly pointed top and decorated with colorful bits of kiwi and granola, but just for a moment indulge yourself by picturing a well-heeled Brentwooder (Brentwoodian? Brentwoodite?) greedily lapping up their cup of fro-you while cesspools of filth oozed at their feet. Oh, okay, gross out. We'll attempt to move on.
Speaking of Pinkberry, earlier this week an article entitled "A New Culture to Yogurt Franchises" ran on the Let's Talk Franchising! blog (who knew?) asserted that "consumers are more than ready for a frozen-yogurt resurgence" which leaves us wondering about the onslaught of ColorFruit named fro-yo emporiums Los Angeles has endured for the past year or so; if that was not in and of itself a resurgence (at the very least a surge, by definition) then what is it exactly that we are readying ourselves for?
The answer, my yogurt loving friends, is simpler than you might think: Toppings! The secret to the success of this sweet treat is not in the fro-yo, but in what goes on top of it. More specifically, the secret is fruit. This magical, elusive, and mysterious ingredient is, believe it or not, available for purchase at non-frozen yogurt serving establishments, like, oh, let's say the grocery store, or, better yet, your local farmer's market. With the specialty tool called "a knife" you can cut up the fruit in your own kitchen, and have a hearty helping of the very thing that is making Pinkberry and the like so successful.
And lastly, since we're talking big business, let's talk "strategic alliances" and the one announced this week between fro-yo chain Red Mango (Color: check. Fruit: check.) and "YoCream International, the leading producer of frozen yogurt. YoCream became the exclusive manufacturer for Red Mango's proprietary natural yogurt formula when introduced in the U.S. earlier this year" (from the Press Release). YoCream has been rocking the frozen yogurt and ice cream mix since the late 70s, while Red Mango has rocked South Korea since 2002, and just recently opened one of their first two US stores here in Los Angeles. Red Mango bills themselves as "The Original Healthy Frozen Yogurt" which might make a skeptic raise their eyebrow at their use of something like a mix. Perhaps this is a formula for success. Now, with whom can they ally themselves to get a hold of the magic fruit to put on top?
And so goes This Week in Frozen Yogurt News.
Photo by The Tung via Flickr